Truman Kicks Off United Way Campaign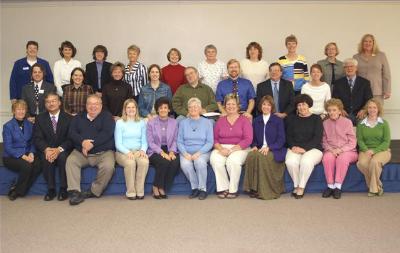 Many of Truman's United Way group leaders gather after a workshop to kick-off the United Way campaign on Sept. 29. Group leaders at the workshop include (front row, left to right): President Barbara Dixon, Dale Blesz, Gene Schneider, Maggie Schmitz, Lana Brown, Martha Bartter, Judy Alexander, Roberta Donahue, Sue Neely, Mary Jane Kohlenberg and Erika Sterup. Second row (left to right): David Conner, Kay Anderson, Traci Hill, Lindsay Johnson, John Bohac, Todd Kuhns, Michael McManis, Rachel See and David Nichols. Back row (left to right): Nancy Pennington, Tracy Mullins, Teri Heckert, Jane Story, Linda Yager, Marilyn Gibbons, Lena Reardon, Donna Bailey, Marianna Giovannini and Lesa Ketterlinus.

This year the Truman campus United Way fund drive kicked-off with a workshop for group leaders. Leaders are contacting Truman employees to give them the opportunity to contribute toward the support of any one or all of the 13 local agencies served by the Adair County United Way.
Truman employees may contribute by using payroll deduction. A pledge of $104 gives each Truman employee a chance to win one of five packages valued at $400 each.
The campus community of faculty, staff and students will be working together throughout the month of October to reach this year's Truman goal of $52,000. Truman has collected a total of $17,912.10 so far, which is 34 percent of the goal.