Truman Nursing Students Visit Philippines
Eight nursing students from Truman traveled to the Philippines May 20-June 12 to gain clinical experience with patients from a transcultural perspective.
Through classes about cultural immersion and communicable diseases last spring, students prepared for their trip. The experience was divided into two parts. The first was a week-long stay in Manila, where students participated in maternal and nursery care at the non-profit government facility, José Reyes Memorial Medical Center. Here students were exposed to caring for mothers and infants who generally could not afford health care. They developed competencies in the assessment of birthing mothers and newborns and in cross-cultural communication. Four students completed 24-hour shifts in the delivery room. Students also had the opportunity to observe and assist with patient care in units of their choice, including the operating room, PICU, burn unit, ER and pediatric ward.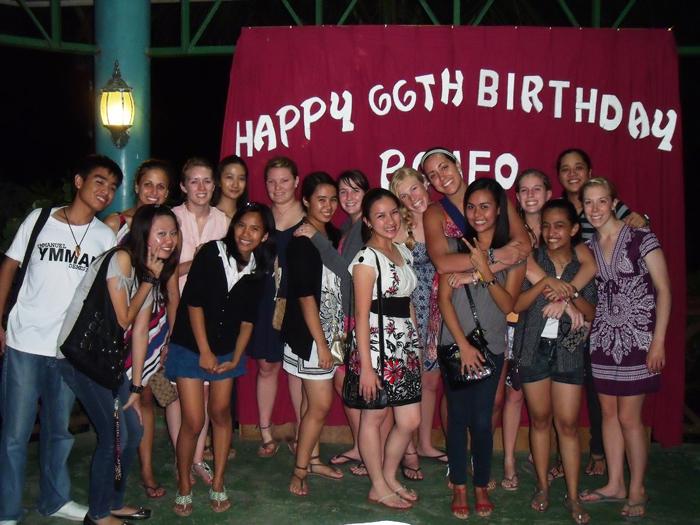 Truman nursing students with their nursing buddies from West Visayas State University in Iloilo City, Philippines.
From Manila, they traveled south to the central province of Iloilo City where the students enrolled in the 12th Transcultural Nursing Program at West Visayas State University.
Clinical experiences in Iloilo included Asilo de Molo (the sole nursing home in Iloilo), home visits to Barangay Napnud, social hygiene clinic and a leprosarium, as well as hospital rotations in the medical, pediatric and surgical wards of WVSU medical center. Communication and cultural accommodation were facilitated for the students during clinical experiences by nursing students, buddies, from West Visayas State University.
The senior nursing students who participated were Kayla Aydelott, Emily Berenz, Sarah Brown, Allison Harper, Lauren Lampe, Andrea Russell, Molly Wersching and Amy Wiley.
These nursing students will present a program, "Transcultural Nursing in the Philippines" at 7 p.m., Oct. 4 in the Student Building Alumni Room. The public is welcome to attend and refreshments will be served.