Alumnus Larry Rigdon Returns for Commencement Address
Commencement speaker Larry Rigdon embodies the ingredients of a successful entrepreneur – vision, determination, sweat equity, leadership – into a package that produces products and results. A 1970 Truman graduate and Kirksville native, Rigdon began his career in public accounting and advanced to become one of the nation's premier leaders in the offshore marine services industry, or as he describes it, to "make the score rather than keep score."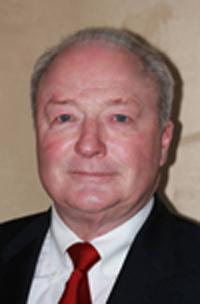 Larry Rigdon
In a 37-year career, Rigdon has done everything from digging ditches to serving as the CEO of his own multimillion dollar company. He has worked around the globe, including stops in Egypt, Mexico and Southeast Asia. During his career, he progressed through a series of management positions at several companies as the offshore marine service industry experienced significant consolidations during the 1980s and 1990s. As the executive vice president of Tidewater, one of the world's largest marine-services providers, Rigdon was responsible for operations in areas including the United States, the Middle East and the former Soviet Union, among others.
By 2002, after only six weeks of retirement from Tidewater, Rigdon started his own offshore marine services company. Rigdon Marine, as the new company would come to be known, started with an order of 10 vessels, which Rigdon helped design. The new diesel-electric boats not only saved customers as much as 20 percent on fuel costs, they reshaped the industry with new redundant safety systems.
A few years later, Rigdon Marine had a fleet of 20 vessels and employed more than 300 people. Rigdon would go on to sell his company in June 2008 to GulfMark Offshore for an enterprise value of $585 million. That same year, Ernst & Young named Rigdon Entrepreneur of the Year for Offshore Marine Services.
Rigdon remains active in the industry today and currently serves on the Board of Directors for Terresolve Technologies. He previously served on the Board of GulfMark Offshore and is active in several industry organizations.
In addition to earning a Bachelor of Science degree in accounting and business administration from Truman, Rigdon is a graduate of the Harvard Business School's Advanced Management Program. During his time at Truman, Rigdon was involved with Blue Key, Phi Sigma Epsilon, the Accounting Club and the Business Administration Club.
Family, travel and downhill skiing are passions for Rigdon and his wife, Janet K. (Thompson) Rigdon, a 1971 graduate of the University. Larry and Janet are the proud parents of Matthew M. Rigdon and Megan (Rigdon) Cannizzaro and three grandchildren. Larry's mother, Maxine Rigdon, is a lifelong resident of Kirksville.
Commencement ceremonies are scheduled for 2 p.m. May 7 at Stokes Stadium.