Truman Nursing Students Visit Philippines
Twelve senior nursing students took part in the Transcultural Nursing Experience this summer, traveling to the Philippines from May 14-June 5.

During a week-long stay in metropolitan Manila, these students participated in maternal and nursery care at the nonprofit government facility José Reyes Memorial Medical Center. While there, they worked with mothers and infants who generally could not afford health care, developing competencies in the assessment of birthing mothers and newborns and in cross-cultural communication.
Communication and cultural accommodation were facilitated for the Truman nursing students during clinical experiences by nursing students from West Visayas State University.
From Manila, students traveled south to the central province of Iloilo City, where they enrolled in a transcultural nursing program at West Visayas State University. Clinical experiences during this program included visits to homes, a pediatric unit, the social hygiene clinic, a leprosarium and a nursing home.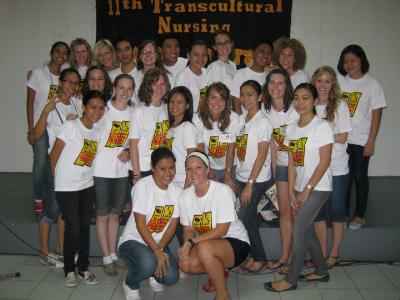 Truman nursing with their nursing buddies from West Visayas State University in Iloilo City, Philippines.


The students prepared for this trip through classes about cultural immersion and communicable diseases last spring.
Those who participated included Becky Beitling, Jamie Boschert, Rachel Cope, Julie Dusheke, Karrie Evens, Kate Hagenhoff, Theresa Hasting, Kassie Henning, Katy Leakey, Jackie Ross, Alyssa Scott and Emily Shaw.
These individuals will present a program entitled "Transcultural Experience in the Philippines" at 7 p.m. Sept. 28 in the Student Union Building Activities Room. The event is open to the public and refreshments will be served.