IFC Participates in Service Activity
Truman's Interfraternity Council (IFC) and the Kirksville Watershed Commission co-sponsored a cleanup of roads in the Forest Lake Watershed the weekend of Sept. 11.

Active fraternity members joined potential new members in picking up trash along eight miles of roadway in areas that drain into Kirksville's water supply.
Participants fanned out to clean up all or parts of the Orrick, Missouri, Michigan and Youngstown trails.
The event provided an opportunity for potential members to experience the fraternities' commitments to service and to talk to active members in an informal atmosphere.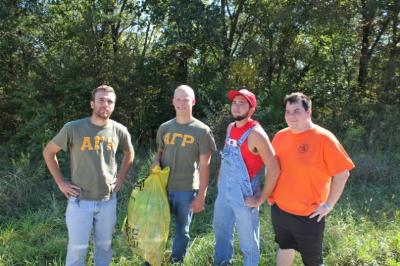 Cleanup participants at the Forest Lake Watershed.
The IFC is a self-governing body composed of six executive board members and 15 fraternities representing nearly 600 undergraduate students. IFC strives to promote excellence among its member fraternities in numerous areas including scholarship, individual chapter development, leadership and community service.