Golden Dragon Acrobats Set to Open 2010-2010 Kohlenberg Lyceum Series
The 2010-2011 Kohlenberg Lyceum Series will kick off with the Golden Dragon Acrobats at 7:30 p.m. Sept. 29 in Baldwin Auditorium.
World renowned impresario Danny Chang and choreographer Angela Chang combine award-winning acrobatics, traditional dance, spectacular costumes, ancient and contemporary music and theatrical techniques to present a show of breathtaking skill and spellbinding beauty.
In November 2005, the Golden Dragon Acrobats made their Broadway debut to a sold out audience. Their six-week Broadway run led to critical acclaim from New York press. The Golden Dragons hail from Hebei, China.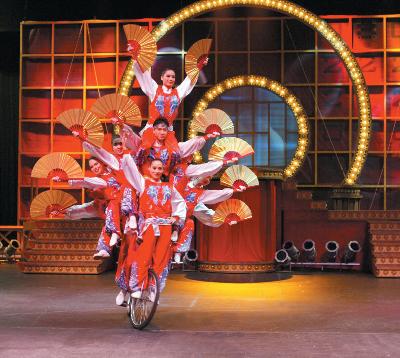 Golden Dragon Acrobats


Free tickets for students, faculty and staff will be available Sept. 22. Students can pick up their free ticket by presenting a Truman ID at the Student Activities Board Box Office, located in the lower level of the Student Union Building. Faculty and staff can receive their free tickets by showing a Truman ID at the Information Center in the Student Union Building.
General admission tickets cost $7 for all ages and are available beginning Sept. 22 at the Truman Cashier's Window in McClain Hall or downtown at Edna Campbells.
For additional information about this or other Kohlenberg Lyceum events, contact the Public Relations Office at 785.4016.