Paino Selected as Truman's 16th President
Dr. Troy D. Paino, Provost and Vice President for Academic Affairs, has been selected to serve as president of Truman State University.
The announcement was made Feb. 8 by Matthew W. Potter, Truman State University Board of Governors chair.
"The Board is delighted to offer Dr. Troy D. Paino the opportunity to serve as president of this great University," Potter said. "With his well rounded background in history, academic administration and law, he is the perfect candidate to lead Truman into the second decade of this millennium. He is well positioned to meet the challenges, including the fiscal challenges, that Truman will face over the next several years. We are looking forward to working with him."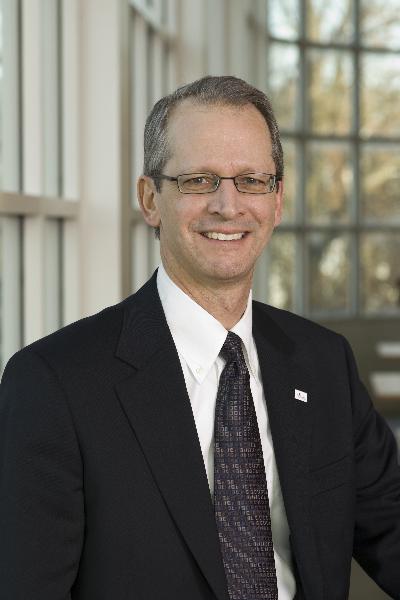 Troy D. Paino
Paino will officially begin his duties as president May 10, 2010.
"I am honored to have the opportunity to lead Truman at this important time in the University's history," Paino said. "Now, more than ever, Missouri and the nation need a school like Truman that represents the principle that a liberal arts and sciences education serves the public good as well as individual aspirations. I look forward to working with the entire University community to build upon Truman's national reputation for academic excellence. My entire family is excited to be members of the Kirksville community and associated with a University known for its dedicated faculty, staff and talented students."
Paino has served as provost since 2008. In this leadership position he has served as a senior member of the president's cabinet and as the chief academic officer for the University. Additionally, Paino helped lead both the implementation of a comprehensive strategic plan to upgrade technology on campus and the establishment of the Truman Institute to develop programming aimed at generating revenue and building mutually beneficial relationships with business and community organizations. He also worked closely with faculty to establish new tenure and promotion policies and procedures and the Office of Student Research.
Prior to coming to Kirksville, Paino served as the dean of the college of liberal arts at Winona State University (Minn.) from 2004 to 2008. As the dean, Paino helped develop important University partnerships with the Great River Shakespeare Festival and Frozen River Film Festival. He also helped establish the Center for Engaged Research, Teaching & Scholarship, the American Democracy Project, and the Consortium for Liberal Arts & Sciences Promotion. He began his career at Winona State University in 1997 as an assistant professor of history. While on the faculty, he co-founded and directed the Law & Society Program from 1999 to 2004. He was promoted to the rank of professor in 2007.
Paino received his juris doctorate from Indiana University School of Law. Prior to arriving at Winona, he worked as a trial lawyer in Indianapolis. In addition to his academic and legal experience, Paino has served on several corporate boards and was a partner in a land development business.
Paino also has a Ph.D. and a Master of Arts degree in American Studies from Michigan State University and a Bachelor of Arts degree in history and philosophy from Evangel University in Springfield, Mo. His teaching and scholarly interests include 20th-century cultural and social history and American legal history. He has written journal articles, encyclopedia entries and book reviews on the history of American sport. His book, "The Social History of the United States: 1960s," was published in 2008.
Paino and his wife Kelly have two daughters, Sophia, age 12, and Chloe, age 10.
Paino currently serves on the Missouri Enterprise & Innovation Center board and will be inducted into Kirksville's Rotary club March 3. He has volunteered with the Big Brothers Big Sisters of Indianapolis and several arts and civic organizations in Minnesota.
In becoming the 16th president in Truman's history, Paino succeeds retiring Truman president Dr. Darrell W. Krueger.