Rose Pays Tribute to Former Professor with Scholarship
Although his career path led to a rewarding career as a State Farm Insurance agent, Steve Rose's affinity for the theatre has never diminished. A staunch supporter of his alma mater, Rose recently made a $200,000 gift commitment to Truman State University's "Bright Minds Bright Futures" campaign to establish the Steve Rose Endowed Performing Arts Scholarship.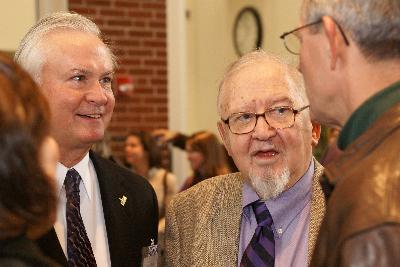 Steve Rose (left) with his former professor and mentor, James G. Severns, professor emeritus of dramatics.

The scholarship, which is designed to expand educational opportunities for Truman students interested in the performing arts, serves as a tribute to James G. Severns, one of Rose's former professors.
"Dr. James G. Severns is inspiring and remains a lifelong friend," says Rose, who as a student, appeared in campus performances directed or produced by Severns. Rose also worked with Severns at the University's Ice House Summer Stock Theater in Hannibal, Mo. Severns retired from the University in 1991, at which time he was granted the title of professor emeritus of dramatics.
A member of the Class of 1969, Rose received a bachelor of science in business administration with minors in psychology and theatre arts from Truman. After graduating, he began his career with State Farm as a claims representative and was appointed as a State Farm agent in 1972. Rose celebrated his 40th year with the company this year.
An actor at heart, Rose is a member of the Screen Actors Guild. He resides in Potomac, Md., and has appeared in several motion pictures, television shows, and in commercials shot in the Washington/Baltimore area.
Rose currently serves as chair of the Truman State University Foundation Board of Directors and is a member of the "Bright Minds Bright Futures" Campaign Steering Committee. Previously, he served on Truman's Alumni Board of Directors, and he is a member of the President's Circle and the John R. Kirk Society.
In 2006, Rose served as the Commencement speaker, and that same year, he was honored with the President's Leadership Award, one of the University's most prestigious awards. In 2003, he was recognized with Truman's Distinguished Alumni Service Award.
Rose also chaired a special fundraising initiative in 2006 that served as another tribute to his former professor and mentor. He made a substantial leadership gift to support the campaign, which raised funds to name the James G. Severns Theater, a performance theater that was added to the University's Fine Arts facility.
Rose's most recent gift to Truman includes a $100,000 pledge payable over a period of five years and a $100,000 charitable gift annuity. The Steve Rose Endowed Performing Arts Scholarship fund will also be fortified with matching gifts from State Farm Insurance.