Alumni to be Honored at Homecoming Events
Several Truman alumni will be honored at various events during Homecoming 2009.
Alumnus of the Year is Dr. Greg A. Gerhardt. As one of the nation's foremost researchers on Parkinson's disease, Gerhardt attributes much of his success to his educational experience at Truman.

"Although I believe that I received good science and math training in high school, Truman propelled me to a higher level and gave me a competitive edge," says Gerhardt.
He credits Truman's faculty, especially Dr. Kenneth Fountain, for encouraging him to pursue a career in chemistry and research.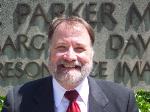 Greg A. Gerhardt

Gerhardt received his Bachelor of Science in chemistry, graduating magna cum laude from Truman in 1979. He received additional training in chemistry and neuroscience at the University of Kansas where he earned his Ph.D. with honors in 1983. He received training as a postdoctoral fellow from 1983-1985 in pharmacology and psychiatry at the University of Colorado Health Sciences Center in Denver. Gerhardt remained at the University of Colorado from 1985-1999 where he rose through the ranks to professor of psychiatry, pharmacology and The Neuroscience Training Program.
He is currently RCTF professor with tenure, Departments of Anatomy & Neurobiology, Neurology, Psychiatry and Electrical Engineering at the University of Kentucky.
Since 1999, Gerhardt has served as director of the Morris K. Udall Parkinson's Disease Research Center of Excellence at the University of Kentucky Chandler Medical Center in Lexington, one of 15 NIH funded centers for the development of new treatments for Parkinson's disease. He is also the director of the Center for Microelectrode Technology.
His research focuses on Parkinson's disease and the repair of damaged dopamine neurons in the basal ganglia of the brain using growth factors such as GDNF. His laboratory also develops microelectrode technologies to directly measure neuronal cell firing and neurotransmission in the living brain, and technologies to repair the brain through brain machine interfaces.
Gerhardt has been editor-in-chief for the "Journal of Neuroscience Methods" since 1999. In that time he has published more than 240 original peer-reviewed papers, 55 book chapters and more than 440 abstracts and conference proceedings. He has won numerous awards including a Research Career Development Award from NIMH from 2000 to 2005.
In 2008, Gerhardt committed, through his estate, $1 million to create the Greg A. and Paulette C. Danielle-Gerhardt Endowed Professorship at Truman to commemorate his late wife, Paulette.
"I have allegiance to several universities, and we felt compassion to support them all, but Truman is the school where we felt we could make the most impact," says Gerhardt.
The Greg A. and Paulette C. Danielle-Gerhardt Endowed Professorship will support a professor in chemistry or biology with a preference given to those teaching or researching neuroscience.

Stacey (George) Sifton and Scott Sifton are the 2009 Young Alumni of the Year.
Stacey and Scott both practice law in St. Louis. Stacey serves as in-house counsel for Edward Jones, and Scott works as a partner at Husch Blackwell Sanders LLP.

Stacey graduated from Truman in 2000 with a Bachelor of Arts in business administration, and Scott earned a Bachelor of Science in political science in 1996. While attending Truman, both Stacey and Scott served as Student Senate President, and each was named to the Omicron Delta Kappa Student Hall of Fame.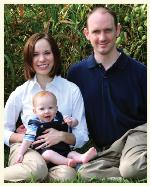 Stacey and Scott Sifton


As part of her college experience, Stacey studied abroad in Cholet, France, and also sang with both the Franklin Street Singers and Cantoria.
While on campus, Scott worked as a peer academic counselor and helped establish the Truman chapter of the Beta Theta Pi social fraternity.

Stacey earned her juris doctorate at the University of Kansas in 2003. Scott received his from the University of Michigan in 1999. Both interned with the Missouri Office of Attorney General while in law school. Stacey also interned with the law firm of Gray, Ritter & Graham, PC.

Stacey currently serves as president of Truman's St. Louis Alumni Chapter and as a member of Truman's Alumni Association Board of Directors. She also serves on the board of the International Institute of St. Louis, where she has helped new Americans learn English and prepare for their citizenship tests.

Scott was elected to the Affton Board of Education in 2001 and re-elected in 2004 and 2007, serving as President from 2007 to 2009. His focus on the Board has been on increasing student achievement and improving teacher pay. Scott served on the board of the American Lung Association of Missouri from 2000 to 2006 and was named to the Leadership St. Louis Class of 2005-2006.

Stacey and Scott both credit their experience at Truman as a catalyst for their success.
Their son, Stephen, was born in January 2009 and recently enjoyed his first St. Louis Cardinals game with Truman alumni.
Kathy Rieck will be honored with the 2009 Distinguished Service Award.
A north Missouri native, Rieck was born in Marceline and grew up in Macon. She is the daughter of Marjorie Rieck of Macon, who also attended Truman, and later served as long-term associate circuit clerk for Macon County.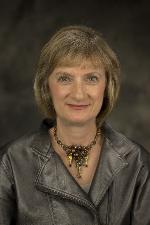 Kathy Rieck

Rieck worked in the local Rexall drugstore during high school prior to enrolling at Truman in 1969. She held summer employment positions in college, calculating property taxes for the Macon County clerk and working for the Macon County prosecuting attorney.

Rieck holds three degrees from Truman: Bachelor of Science in education in business education (1973); Master of Arts in secondary school administration (1976); and Bachelor of Science in accounting (1981). She earned her Certified Public Accountant certificate in 1981.

Shortly after graduating in May of 1973, Rieck received a call from University President Charles McClain's office asking if she would be interested in working at the University. She began working in the President's Office a week later, with plans to stay for a year or two. Little did she know that her career at Truman would span 32 years.

Her early assignments at Truman gave her well-rounded experiences. Rieck often acted as the first point of contact between the President's Office and external constituents. She served on numerous campus-wide committees, including those responsible for institutional accreditation, long-range planning, information technology, athletics, and major administrative searches. Quickly recognized as bright, resourceful and kind, Rieck became a mentor and role model to students and staff members, many of whom now hold leadership positions in education, government and business.

In 1985, when the University's mission was changed to be the statewide public liberal arts and sciences university, Rieck was named Executive Assistant to the President-Admissions. She was charged with upgrading admission standards, setting qualitative and quantitative admission goals for the "new" university, and modifying policies and processes to be in line with those of a highly selective institution. She developed successful student recruitment and retention strategies, which resulted in dramatic increases in the size and ability of the student body. Truman is now nationally recognized for the strength of its students.

Rieck was named Dean of Admission and Records in 1988. Her expanded responsibilities included enrollment management, freshman and transfer student recruitment and enrollment, and supervision of the Admissions, Registrar's, Financial Aid and International Student Offices. Here, again, her mentoring skills created a legacy now represented at colleges across the country. Her earlier international travels with Fran McKinney helped make friends for Truman around the world.

When Jack Magruder became President of the University, he asked Rieck to serve in the dual role of Dean of Admission and Records, and Executive Assistant to the President. She continued in both positions throughout his presidency. In 2003, she was named Vice President for University Advancement. Two years later she retired.

Thousands of entering Truman students received admissions letters with personal notes, written in her distinctive pink ink. Countless alums, parents, faculty, staff and board members have had Rieck on their speed-dial. President McClain wrote: "I know of no one who has contributed more to the success of Northeast Missouri State (Truman) than Kathy Rieck. She envisioned a bright future for her old school, and then worked tirelessly to make it happen."

For Rieck, "retirement" has included cultivation of her collection of antiques and care for her aging poodles. She operates a small business called "Anna's Antiques," with booths in antique malls, antiques shows and Internet sales. She has taken courses to become a Master Gardener and now works with community beautification projects. She serves as President of the Kirksville Arts Association, Chair of the antique show for the Red Barn Arts, Crafts, and Antiques Festival, and Coordinator of Volunteers for that festival. She can occasionally be found relaxing on a pontoon boat on 1000 Hills Lake with Jim Lyons.

Rieck is an active supporter of the Truman State University Foundation, and says she is looking forward to serving as a member of the "Bright Minds, Bright Futures" regional campaign committee for northeast Missouri.
Larry Moore and Ruth Ann (Winter) Moore will serve as Grand Marshals of the 2009 Homecoming Parade.
A Baring, Mo., native, Larry anchors the award-winning 5 p.m., 6 p.m. and 10 p.m. news for KMBC-TV in Kansas City, Mo. He received a Bachelor of Science in education from Truman in 1967, and while attending the University, he was a reporter and weekend editor for the "Kirksville Daily Express" newspaper. He earned a master's degree in television news from the University of Missouri School of Journalism.

Larry and Ruth Moore
Before becoming a television news reporter, Larry was editor and reporter for two Missouri daily newspapers and United Press International. He began working at KMBC as a reporter in 1968 and rose through the ranks to become primary news anchor in 1972. His television news reporting and anchoring have been honored by the Missouri Broadcasters Association, the Kansas Broadcasters Association, the Missouri Radio and Television News Association and the Kansas City Press Club.

Larry has been involved in the coverage of almost every major news story that has affected the Kansas City area in the past 32 years, including the Plaza flood of 1977, the Coates House fire of 1978, the Hyatt skywalk disaster, the Republican National Convention in Kansas City, the Rep. Jerry Litton plane crash, the firefighters explosion, the massive flood of 1993, the Chiefs' Super Bowl Championship, the Royals' World Series Championship, and the plane crash and death of Gov. Mel Carnahan.

He has been chosen best television news anchor by Kansas City Media Professionals and by the readers of "Squire Publications," "Pitch Weekly," "Ingram's Magazine" and "Kansas City Magazine." "Wednesday Magazine" named him best (favorite) Southlander. Most recently, "Squire Publications" editors and readers honored Larry as Kansas City TV Person of the Century, and "Kansas City Magazine" named him as one of Kansas City's Top 10 Celebrities.

Larry and Ruth are recipients of the prestigious Broderick Award, recognizing their accomplishments in community and civic leadership. Larry is also recipient of the Zink the Zebra annual community involvement award, and he has served on community boards of the Cystic Fibrosis Foundation, the American Cancer Society, Kansas City Community Gardens, the National Lost-Child Network, the American Royal, the Ozanam Home for Boys, the St. Patrick's Day Parade Committee, the University of Health Sciences, Avila College and the Kansas City Press Club.

Larry devotes much of his volunteer community work to children, and since he helped organize the Greater Kansas City Dream Factory in 1984, more than 5,500 youngsters with chronic or serious illnesses have had their dreams granted in the Kansas City area. The local chapter of the Dream Factory picked Larry to receive the Dream Maker of the Year Award for 2001, and the National Convention of the Dream Factory has honored him with the coveted Stephen K. Douglas Award.

The American Cancer Society presented Larry, who is a cancer survivor, with the prestigious Ambassador of Hope Courage Award for the cancer educational campaign that he conducted on television and in the community by sharing his personal struggle with cancer.


Ruth, originally from St. Louis, received a Bachelor of Science in education from Truman in 1968. At that time, Walter Ryle was serving as President of the University, and as a student, Ruth worked in the President's Office. She also earned a degree from Webster University.
Ruth is currently on medical leave from Webster University, where she is employed as the community relations coordinator. She orchestrates a large part of her husband's community publicity and public appearance schedule, and throughout her career, has accumulated a number of accomplishments in the areas of community service and public relations.

As director of fundraising for the Greater Kansas City Dream Factory for 11 years, she was responsible for raising $305,000 each year. She also helped organize and publicize the Dream Factory Chiefs-Royals basketball game for 10 years.

Along with others, Ruth helped originate and publicize the annual Rose Brooks Cabaret Evening, an event that raises funds for the Rose Brooks domestic abuse shelter. Now in its 18th year, the event raises more than $350,000 annually.

In addition to being a long-time marketing consultant and public relations adviser for annual auction galas at Rockhurst High School and St. Teresa's Academy in Kansas City, Ruth was the public relations adviser for the American Royal. She also served as director of publicity for the Kansas City Jaycee Professional Rodeo, the largest outdoor rodeo in the Middle West, and was the public relations consultant for Senator Harold Caskey in three of his successful campaigns for the Missouri State Senate.

Ruth and Larry are co-founders of the Support Our Seminarians gala, which attracts more than 1,000 people annually to raise funds for scholarships for seminary students at Conception Seminary College, and Ruth is involved in marketing, promoting, and publicizing the event each year.

The Moores make their home in Kansas City, and they own Celebrity Farms, a breeding and training operation of Missouri Fox Trotting horses. They have three daughters and two sons.