Phi Kappa Phi Head Start Supply Drive a Success
The Truman chapter of Phi Kappa Phi organized an educational supplies drive for nine Head Start centers in need in the surrounding community.
Head Start provides early childhood education programs and family and child development activities for children who meet the eligibility requirements. While the Centers do receive financial support from both federal and state sources, the level of funding has stayed the same for several years while the cost of supplies has continued to increase.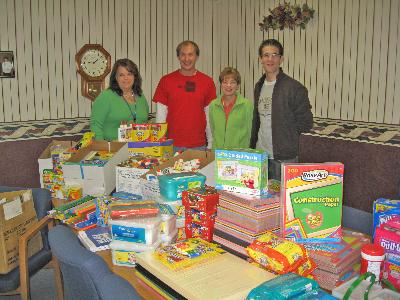 Pictured (left to right): Rebecca Rollins, Head Start director; Greg Xander, quality control content area manager for NMCAA; Teresa Heckert, faculty/staff vice president, Truman Phi Kappa Phi; and K. Lee Raby, student vice president, Truman Phi Kappa Phi.


Phi Kappa Phi collected more than 600 packages of supplies, for a total exceeding 21,600 items, and more than $65 in cash donations for the nine Head Start centers, which serve five counties in northeast Missouri.
Mary Lee Bailey, Head Start director of family and community development, said the drive impacted positively, "the quality of life of 252 area children during the most formative period of their lives."
The drive was organized by Phi Kappa Phi student vice president K. Lee Raby and faculty/staff vice president Teresa Heckert.