Barnes and Batzer Receive Academic Innovation Awards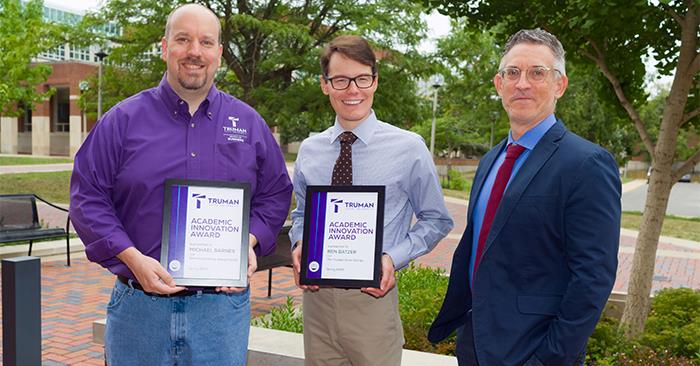 Michael Barnes and Ben Batzer with Eric Freedman, executive vice president for academic affairs and provost
Michael Barnes, associate professor of accounting and graduate program director, and Ben Batzer, assistant professor of English education, each earned the spring 2023 Academic Innovation Award.
Barnes was recognized for using
structured group assignments
as an alternative approach to traditional group work. In addition to providing clearer individual performance expectations, structured group assignments delegate group performance roles to facilitate better coordination and communication.
Batzer was recognized for "
The Truman State Stories
," which invites students to write a journalistic profile. They study model essays from national newspapers and magazines, interview someone from the Truman community, write their own feature article, and then work in teams to edit, compile, digitize and publish a class anthology of their work.