Nursing Students Make a Difference in Local Communities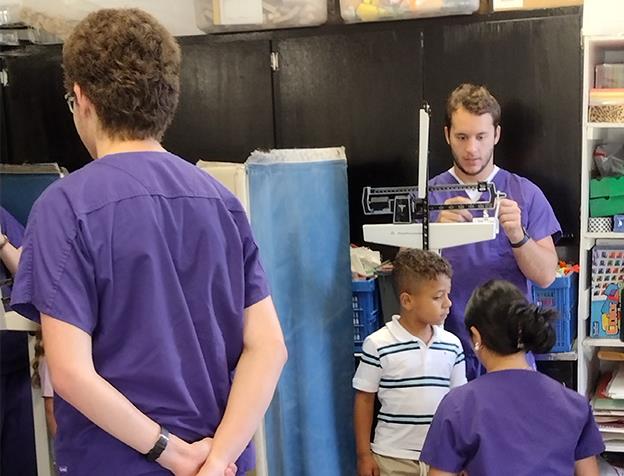 Students help with school screenings in Scotland County.

Nursing students spend many hours in lectures and clinicals learning skills for the future, but one class in particular gives them the chance to make an impact Kirksville and surrounding communities.
In the Rural and Public Health Nursing course taught by Nola Martz, assistant professor of nursing, students complete a rotation at a local health department and another at a local school. Health departments in Adair, Knox, Schuyler and Sullivan counties, along with schools in Brookfield, Green City, Kirksville, Milan and Scotland County, are just a few of the places the University has partnered with where students can complete these clinical hours. During rotations, students will assist with patient assessments, immunizations, injections, health screenings, vision and hearing screenings, administer medications, wound care and much more.
"The students get to see first hand all of the beneficial services local health departments provide, and that the school health nurse role is much more than 'ice packs and band-aids,'" Martz said. "They also get a population focused perspective on the challenges these communities face in reaching their health potential."
During fall 2022, students helped at the school health fairs for Scotland and Brookfield and immunization clinics for Green City and Milan, as well as vision and dental screenings for Ray Miller Elementary and Kirksville Primary. Students also helped at flu clinics in Adair, Knox, Schuyler and Sullivan counties.
"Preceptors and patients often comment on the professionalism exhibited by our students, as well as how well prepared they are for their clinical rotations," Martz said. "Some students have helped innovate efficient ways to organize clinics and have served as extenders of those facilities' workforce where they have limited resources to have full time staff."
As an example, when COVID-19 vaccines became available student nurses in the Rural Public Health class filled roughly 70 volunteer vaccinator positions to assist local public health departments in five counties covering 36 outreach clinics in 67 days to vaccinate more than 10,000 residents of northeast Missouri. Without these students, the burden on the local vaccine providers would have been such that they simply did not have a sufficient workforce to accomplish this.
Through these experiences, students gain an understanding of the importance in looking at patients not just as a diagnosis in front of them, but also considering what their story may be and what kind of resources they have available. In addition to gaining valuable work experience, the students are able to make a positive impact at the locations where their clinicals are completed.