Fall Sports Earn Academic All-District Honors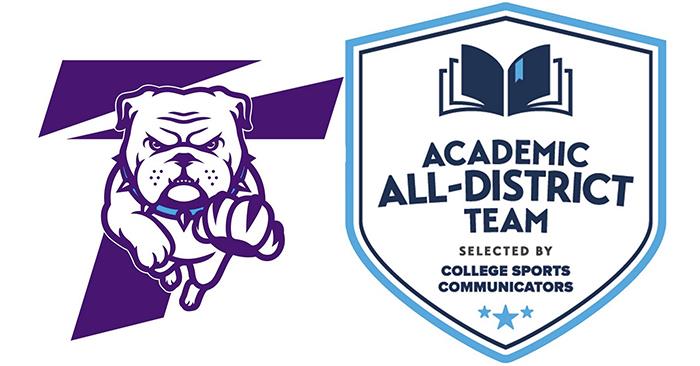 A total of 22 Truman fall athletes were recognized by the College Sports Communicators to the Academic All-District team.
Student-athletes in the sports of men's soccer, women's soccer, volleyball and football that possessed a minimum 3.5 cumulative grade point average, were a starter or key reserve and in their second season of competition were eligible for the honor. In addition, this season, each sport was capped at a number of nominations by each school.
Academic All-District honorees advance to the CSC Academic All-America ballot with a first, second and third team honor roll voted upon by CSC members in December.
Athletes that were honored were from football were Taylor Cornish, Tate Crane, Dane Eggert, Kendall Hutchison, Jacob McCollum, Ben Miller, Casey Voichahoske and Justin Watson.
Hanna Berry, Monica Brown, Rachel DeFries and Molly McGurn were honored from volleyball.
Athletes honored from men's soccer were Collin Buss, Dominic DeProspero, Jack Knust and Sam Newton.
Cassidy Gann, Casey Hansen, Jessica Kozol, Emmie McConnell, Olivia Morris and Kirsten Weber were honored from women's soccer.
For more information about the College Sports Communicators Academic All-District and Academic All-America Teams program, visit
AcademicAllAmerica.com
.