Rotary and Truman Partner to Showcase Bulldog Pride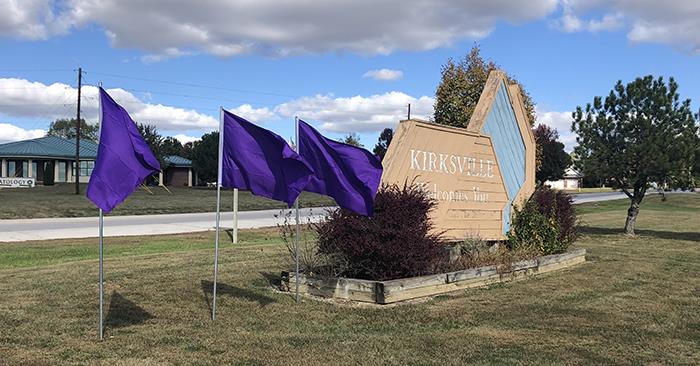 The University has partnered with the Rotary Club of Kirksville to help spread Truman pride in the community.
Utilizing the infrastructure already in place from the Rotary Club's popular Fly the Flag program, purple flags representing Truman will be on display in certain high-traffic areas around town on days of importance to the University. The purple flags made their debut the weekend of homecoming. Other special occasions will include Family Day, showcase days for prospective students and graduation weekend.
The University purchased 100 flags and poles, and members of the Rotary Club helped with the assembly and placement. The Northeast Missouri Alumni Chapter also assisted in placing the flags throughout the community.
Fly the Flag is a subscription program available to all Kirksville residents and made possible by the Rotary Club of Kirksville. On six flag holidays – Memorial Day, Flag Day, Independence Day, Labor Day, Patriot Day and Veterans Day – Rotarians will place an American flag on display at the subscriber's chosen location. More information about the program can be found at
kvrotary.org
.