Scholarship Eligibility Expanded to Reach More Students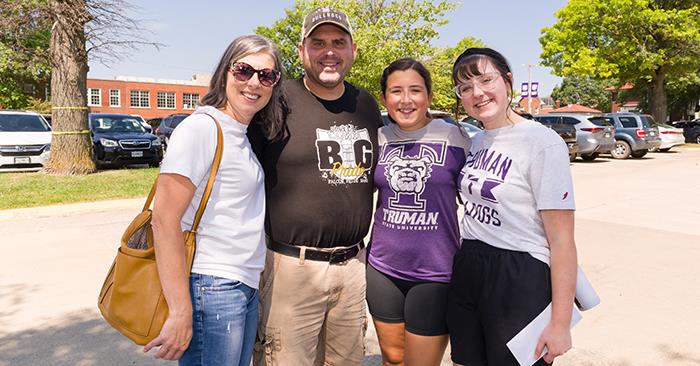 In an effort to make a college education attainable to more students, Truman is expanding eligibility requirements for one of its most popular scholarships.
For years, the Bulldog Legacy Scholarship has been automatically awarded to students whose parents graduated from the University. Starting with next fall's entering class, the family criteria is expanding, making the scholarship available to more prospective students. Admitted students who are children, step-children or grandchildren of Truman alumni, or the sibling of a graduate or currently enrolled student, will be automatically eligible for the scholarship. Alumni can
refer students online
to ensure the Admissions Office can reach out to them about applying to Truman.
"The Bulldog family – our amazing network of alumni – is so important to the legacy we have at Truman," said Shari Foglesong, associate director of admission. "By expanding the Bulldog Legacy Scholarship, we are recognizing the fact that incoming students may have been influenced by the strong values and contributions of the Truman graduates in their lives, including their siblings, grandparents and parents. This expansion will make college more affordable for a greater number of students, and help students find their home at Truman just like their family members did."
For the 2023-24 school year, the Bulldog Legacy Scholarship will be awarded in the amount of $1,000 for Missouri residents and $2,000 for out-of-state students. This is in addition to any other aid a student may receive, including merit scholarships.
Any prospective student who completes an
undergraduate application
to Truman is automatically considered for the Bulldog Legacy Scholarship, as well as a number of other awards. Information on all of the automatic scholarships available to incoming students can be found at
truman.edu/admission-cost/cost-aid/scholarships/automatic-scholarships
. In addition to automatic scholarships, assistance is available through
Truman State University Foundation scholarships
and the
Financial Aid Office
.
Truman regularly receives national recognition for its efforts to ensure a high-quality education is an option for all students. Approximately 97% of Truman students earn scholarships. Half of Truman students graduate with no student loan debt, and the other half graduate with debt well below the national average.
For more information about the Bulldog Legacy Scholarship, contact the Office of Admission by phone at 660.785.4114 or 800.892.7792 or email at
admissions@truman.edu
.