Truman Partners with Community to Celebrate the Night Sky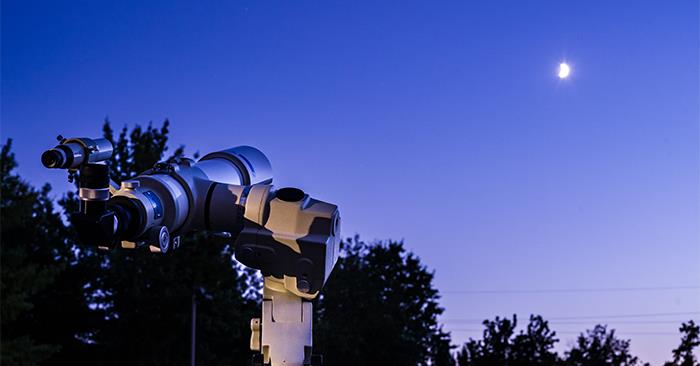 Truman is collaborating with the Adair County Public Library and Thousand Hills State Park on a series of events to help everyone appreciate the wonders of the night sky.
In conjunction with International Observe the Moon night, a bring-your-own-telescope event took place Oct. 1 at the Adair County Public Library in Kirksville. Members of Truman's Stargazers Astronomy Club were available to help attendees recognize planets and constellations. They will also set up some telescopes for anyone to utilize.
"The idea of community stargazing events like these is to get people outdoors and experience the beauty of the night sky," said Vayujeet Gokhale, associate professor of physics at Truman. "We set up scopes to show details on bright naked-eye objects like our Moon, Jupiter and Saturn, but our new scopes are also capable of displaying color images of deep sky objects such as galaxies, nebulae and star-clusters. People enjoy these events immensely and find the experience of spending some time under the stars quite soothing and refreshing. Everyone is welcome, so if the weather looks good, grab a blanket and join us to enjoy the wonders of the night sky."
Weather permitting, there are other community events planned this fall. From 7-9 p.m. Oct. 8, Truman will set up telescopes on campus, and members of the public are invited to make use of them with the help of students from the Stargazers Astronomy Club.
Representatives from Truman will also host a Halloween Constellation Myths event from 6-8 p.m. Oct. 28 at Thousand Hills State Park. Those in attendance will get to explore the stars while learning about the mythological connections to some constellations. More details will be available soon on
observatory.truman.edu
.
The Adair County Public Library will host a second event from 5:30-7:30 p.m. Nov. 15.
In addition to community outreach events, the Truman Observatory, located at the University Farm on Boundary Street, hosts open house events throughout the year. Details can be found online at
observatory.truman.edu
.