Shroyer Earns Presser Scholar Distinction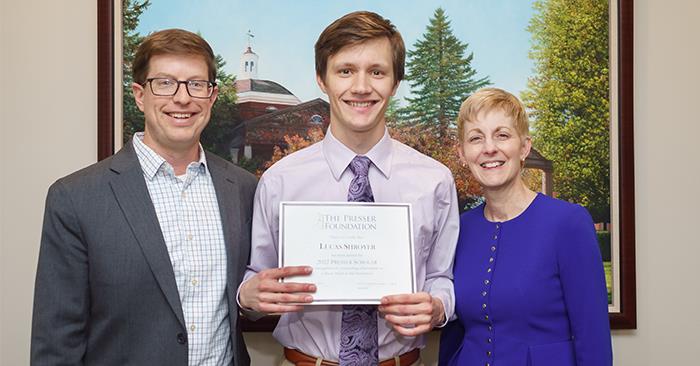 Lucas Shroyer has been recognized by the Department of Music as a Presser Scholar.
The award is selected by the music faculty at Truman to recognize a student of high-level academic and musical accomplishment who embodies the qualities of leadership and citizenship. The recipient is one who has grown individually and who has contributed earnestly to the success of the Department of Music.
This fall, Shroyer will begin his fourth year pursuing a Bachelor of Music degree in clarinet performance where he studies with Jesse Krebs, professor of music. He performs in Wind Symphony I, University Orchestra, Clarinet Choir, Uncommon Practice, the piano studio and is an active member of the Phi Mu Alpha music fraternity. He recently won the Truman Wind Symphony Concerto Competition and had the opportunity to perform Michele Mangani's Concerto as a soloist with the ensemble. Shroyer also received second place in the 2021 Missouri Music Teachers Association Collegiate Woodwinds Competition and was selected as a finalist in the 2021 Mostly Mozart Concerto Competition. Upon graduation, he plans to pursue a master's degree in clarinet performance.
The Presser Foundation recognizes 200 awardees in music departments and schools across the United States each year. As a Presser Scholar, Shroyer will also receive approximately $4,000 through the Truman State University Foundation to use as he sees fit.