Foundation Celebration Honors Donors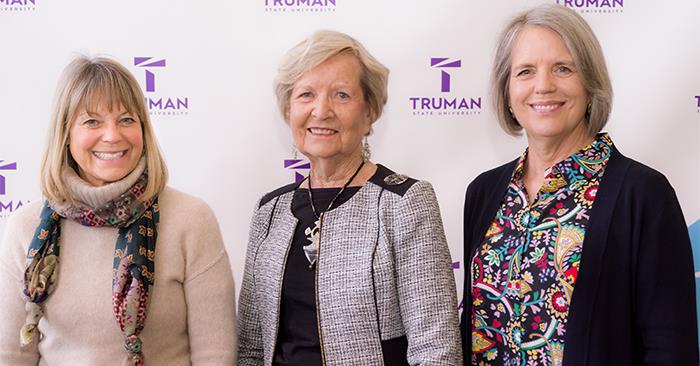 Patricia (McMichael) Cox (above, center) received the President's Leadership Award at this year's Truman State University Foundation Banquet. Also pictured are her daughter's Janet Grummer (left) and Donna Cox.
The annual Truman State University Foundation celebration took place April 9.
The celebration provides an opportunity for the campus community to express gratitude for each and every donor to Truman. The evening's activities included remarks from University President Sue Thomas as well as Ernie Hughes, Vice President for University Advancement and Dawn Tartaglione, president of the Foundation Board. Junior business major Esther Lee spoke about how the foundation has impacted her time on campus while senior music major Christian Baugher and junior music major Laura Alexander provided exceptional musical performances.
More than 100 benefactors were recognized as new members of the University's prestigious giving societies. KPMG was presented the Distinguished Corporation/Foundation Award for their continued partnership with the University and the School of Business. Gen. Maj. John V. Cox and Mrs. Patricia (McMichael) Cox were presented with the President's Leadership Award, one of the most prestigious honors bestowed by Truman. The President's Leadership Award honors select Truman alumni and friends for meritorious service through their gifts of volunteerism, expertise and financial resources.
Last year, more than 700 scholarships amounting to more than 1.03 million was awarded from 363 Truman State University Foundation Funds.

For a listing of the full membership of all of Truman's giving societies, go to
truman.edu/giving/societies
or visit the donor wall in the Student Union Building.