Club Volleyball Places Second at National Tournament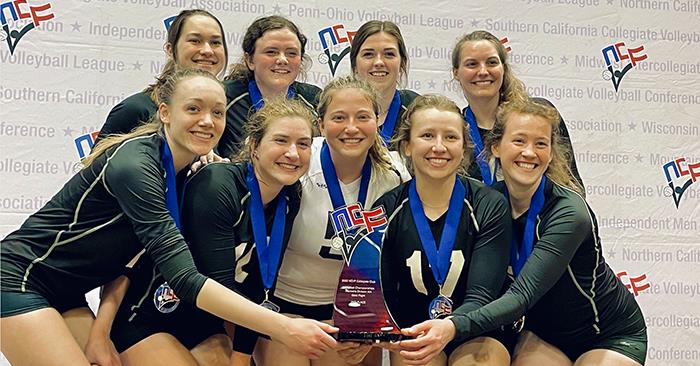 Truman's women's club volleyball team placed second in the nation at the National Collegiate Volleyball Federation (NCVF) National Championship Tournament in Phoenix, Arizona, April 14-16.
The team competed in the D1AA Division, which is the second-highest of the tournament's six women's divisions. A total of 48 teams competed in this division, with the majority of them from significantly larger schools than Truman.
Nine of the club's 20 women competed in the event, with a few players earning all-tournament honors. Madison Cleeton made first-team all-tournament, and Martha Glastetter made second-team all-tournament. Players selected for all-tournament teams are recognized for their outstanding performance throughout the entire competition. These selections are made based on input from team captains and tournament leaders during a post-tournament meeting.
To qualify for nationals, the team placed third in both the East Regional Tournament and the Midwest Plains Conference Championship Tournament. Their standings from regionals and conference determined how they were seeded during nationals.
Prior to the pandemic, Truman's club volleyball team competed in this tournament every year, but this is the first year the NCVF has hosted any competitions since then. The last time the team competed in a national tournament was spring 2019 where they tied for fifth place.
Students can join the women's club volleyball team by participating in tryouts at the beginning of each semester. Tryout dates are usually within the first month of school and are announced on Truman's master calendar, at the student activities fair and posted on flyers around campus. Practices take place every Monday and Thursday from 4-5:30 p.m. at the Student Recreation Center. Practices are open to anyone, whether or not they are on the official roster. For more information email
trumanvbc@gmail.com
. There is presently no men's club volleyball team, but any males interested in creating one can email
trumanvbc@gmail.com
, and they will try to connect them with other interested students.