United Way Campaign Update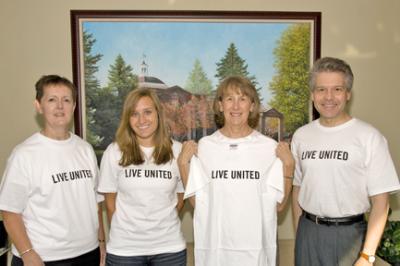 United Way Co-Chair Debra Kerby (left), along with United Way Student Chair Emily Walker, University President Barbara Dixon, and United Way Co-Chair Brad Chambers, pledge to "Live United," the theme of this year's United Way campaign.

After five weeks, the faculty, staff and students have contributed nearly $43,000, meeting approximately 76 percent of the goal. Contributions make a difference in northeast Missouri. For less than $1 per week, or $50 per year, a family of four has groceries for one week in a shelter; less than $2 per week buys meat products for the food pantry; less than $5 per week assists a family in restoring their electricity; less than $10 per week provides three nights in a safehouse for a family of four; and less than $25 per week provides 300 RSVP volunteers with liability, accident and excess auto insurance while volunteering. For questions regarding the campaign, or to get a replacement form, contact Chambers at
bchamber@truman.edu
, or Kerby at
dkerby@truman.edu
.