New Version of TruView Coming in October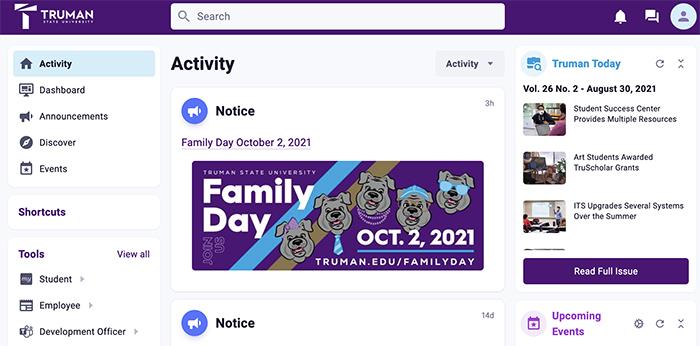 The newest iteration of Truman's campus intranet can be accessed now by all students, faculty and staff.
The TruView version familiar to users over the past several years will be retired Oct. 4. It is being replaced with an updated campus portal that offers the convenience of email, the engagement of social media, the power of group activities, online access to student, faculty and employee services, and much more. All of the same information and resources now available through TruView is available on the new version.
For those interested, the new version of TruView can be accessed now at
portal.truman.edu
. When the current version of TruView is retired, Oct. 4, the new version will also be available at
truview.truman.edu
.
The initial focus was to migrate most of the content in TruView to the new platform, and this work has essentially been completed. Offices with documentation that describes how to navigate to services through TruView will need to update their documentation to reflect the changes in navigation in the new tool.

The content from "Inside Truman" is currently in transition, and offices with content on this site will be contacted regarding a migration plan for their site. The portal implementation team will do their best to work with everyone to ensure a smooth transition of tools and services to the new platform.

During the fall semester, several groups will begin piloting some of the new "Group" activities and features, with the goal of setting up even more groups in the spring.

ITS is offering Zoom sessions for any faculty, staff or students who would like more information about the new version of TruView. Sign up is available
here
.