Wildflower Project Brings More Flowers to Campus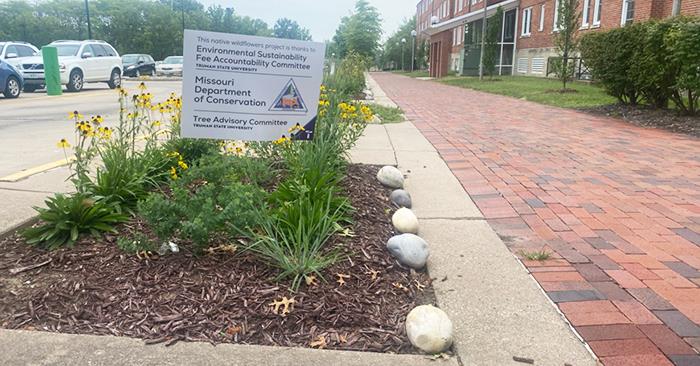 Truman's Campus Tree Advisory Committee completed a project in May 2021 in conjunction with the Missouri Department of Conservation and the Student Sustainability Fee to help beautify the east side of campus.

The Wildflower Project filled 20 empty plots along the sidewalk on the east side of Missouri and Blanton-Nason-Brewer halls with various plants. Sue Limestall, a Campus Tree Advisory Committee member, designed five different planting schemes that would be repeated four times. Nearly 400 plants, mostly from Missouri Wildflowers Nursery in Jefferson City and Claire's Garden in Kirksville, were used. The plants were kept in the greenhouse at the University Farm and were tended by Bill Kuntz, a committee member and Truman farm manager.

The Wildflower Project proposal was originally sent to the Missouri Prairie Foundation (MPF) with the help of Lori Shook, the Campus Tree Advisory Committee chair and campus planner, but the proposal was not selected. However, Yvette Amerman from the Missouri Department of Conservation (MDC) had run the proposal through colleagues at MDC. They approved the Wildflower Project as part of a public demonstration project and provided all the plants. Committee member Donna Liss helped with the idea to use the $500 available from the Environmental Sustainability Fee previously approved by Truman students to buy topsoil, mulch, boulders and any additional plant costs.

Among the plants included in the Truman Wildflower Project are: Aromatic Aster, Blue Wild Indigo, Bush's Poppy Mallow, Butterfly Weed, Columbine, Lanceleaf Coreopsis, Little Bluestem Grass, Missouri Coneflower, Foxglove Beardtongue, Prairie Blazing Star, Prairie Dropseed Grass, Purple Coneflower, Rose Verbena and Swamp Milkweed.

Shook created five signs that are placed along the beds identifying the entities who made the Wildflower Project possible. The beds have been weeded through their first season by various committee members, and a recommended care plan has been prepared and given to the Grounds Department for future care actions.