Students Receive Foundation Study Abroad Scholarships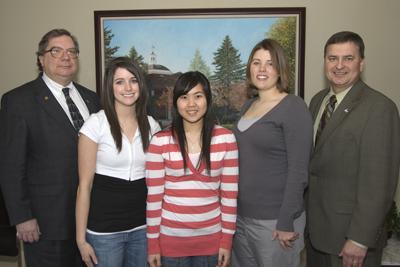 Michael McManis, University dean for planning and institutional development and executive assistant to the president (left), and Mark Gambaiana, vice president for University advancement (right), stand with three of the 10 students who received the Foundation Study Abroad scholarships (pictured second from left to right) Danielle Holmes, Helen Pham and Alexandra Lundy. Not pictured are recipients Nathan Beck, Kara Fillman, Almeta Helmig, Kourtney House, Deanna Kennedy, Colleen Riordan and Justine Wahlbrink.
The Truman State University Foundation awards 10 $1,500 scholarships annually to students who are participating in a summer, faculty-led study abroad experience.
The students who have been selected as recipients in 2008 and will study abroad in various programs, including Avignon, Cantatori-Ireland, China, Costa Rica, Europe in Transition and Salamanca summer study abroad programs.
More than $550,000 in scholarships will be awarded from the Truman State University Foundation this year. These scholarships are made possible through generous contributions from alumni, parents and friends of the University.
Applications for the majority of the 2008-2009 Foundation scholarships available for upperclassmen are due by midnight, Feb. 28 and are available at
http://www.truman.edu
by clicking on Student Life / Money / Foundation Scholarships. For more information or questions, contact the Office of Advancement at 785.4133.