Pets Find a Home on Campus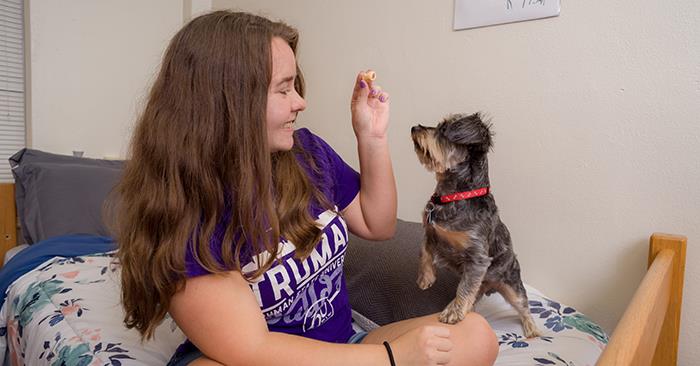 Tiffany Winistoerfer gives a treat to her dog Brody, one of the 10 pets living in Dobson Hall. This year Truman is piloting pet-friendly housing options for the first time.
In addition to being the home of the Bulldogs, this fall Truman is also home to cats, hamsters, rabbits and a Chihuahua-Yorkie mix named Brody.
This is the first semester Truman has offered pet-friendly housing. The first floor of Dobson Hall was set aside for any students interested in bringing an animal to campus or living in a dedicated space with pets. Ten students brought furry new roommates, with cats making up the largest population of animals at six, followed by rabbits and hamsters.
Brody is the only dog living in pet-friendly housing this year. He belongs to Tiffany Winistoerfer, who was interested in bringing a pet in order to make campus feel a little more like home.
"I really enjoy being able to come back from hard classes to a happy dog, and doing homework with him cuddling makes it easier as well," she said. "Having someone who is excited for everything that the day may bring is wonderful. It is great for Brody as well, because he loves getting attention and relaxing. The campus is also a really great place to go on walks."
Freshman Camilla Wilkerson knew she would be bringing her rabbit, Neptune, to school with her, even before she knew where that might be.
"Pet-friendly housing was always at the top of my list for questions to ask schools," she said.
Neptune is adjusting nicely to life on campus because she actually has a little more room than she did at home. She has also been instrumental in helping Wilkerson with the transition to college during an odd semester.
"Not only has she made me feel more at home, but she is a great topic of conversation when making new friends," Wilkerson said. "Especially this year since it's harder to make friends. She kept me company through the first week or so while I learned how to navigate college and form friendships."
Dobson has also been opened up to students interested in living in pet-friendly housing, even if they were not bringing pets of their own, and a handful of students requested to live in the hall just for that reason. Nina Simone ended up in Dobson after originally planning to spend the year in Missouri Hall. Although it was not her first choice, it has worked out well.
"It is so much fun living with pets," Simone said. "If I need a study break I will go to Tiffany's room and play with her dog. He is so sweet and loving and it just makes my day."
Truman plans to continue with pet-friendly housing next year. Students and their family members with questions regarding pet-friendly housing can contact the Office of Residence Life at 660.785.4227 or
reslife@truman.edu
. They can also visit
truman.edu/residence-life
and click on
Pet-Friendly Housing
. Housing applications for the 2021-22 academic year will be available in October.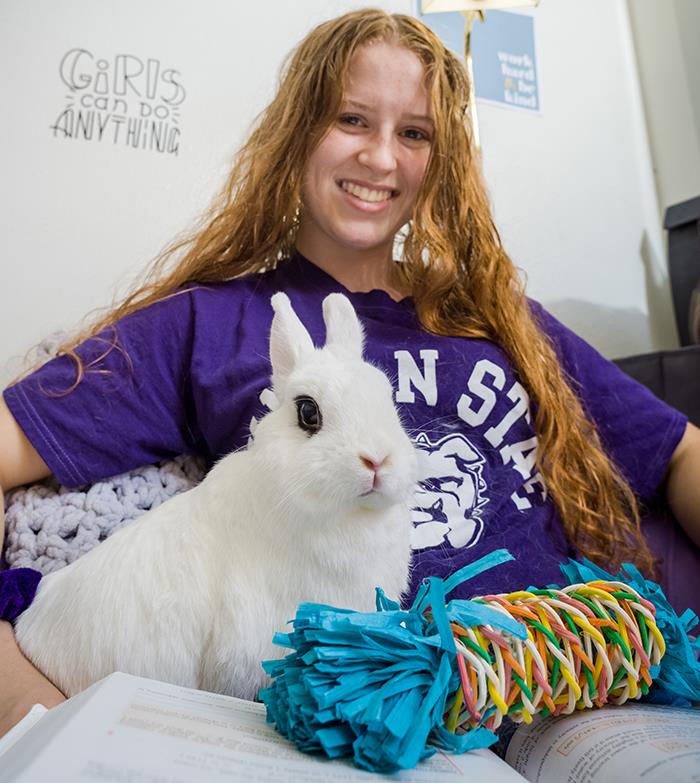 Camilla Wilkerson takes a study break with her pet rabbit Neptune.