Parking Registration Now Open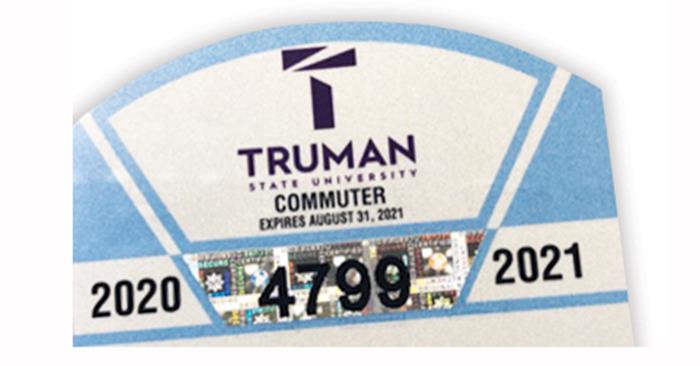 Students, faculty and staff can register for parking decals online through TruView.
StudentsStudents who would like to register their vehicle should:
Log on to
TruView
Scroll down to "View and Update My Personal Information"
Click on "Register My Vehicle/Bicycle"
Register with their Kirksville address; address and phone information are required
To complete registration, license plate information is required
Student accounts will be charged $130 once Parking Services processes the request. Do not make changes to vehicle registration online. Any changes should be made by contacting Parking Services at 660.785.7400. A Truman ID is required to pick up parking decals.
Decals can be picked up two business days after the online registration. Registration is not complete until the decal is adhered to the vehicle.
Freshman parking decals will be in an envelope inside a Truman folder received at residence hall check in if the registration form is complete prior to Aug. 1. Late registrations, commuter decals and upperclassmen decals will be processed and distributed from Parking Services located in the General Services Building 100.
Distribution of fall 2020 parking decals will begin from 8 a.m.-4:30 p.m. Aug. 5. Parking Services will have extended hours, 10 a.m.-4 p.m., Aug. 15-16.

Faculty and Staff
Faculty and staff who would like to register their vehicle should:
Log on to
TruView
Click on "View and Update Your Personal Information"
Select "Register Your Vehicle"
Complete a new vehicle registration for each vehicle requiring a parking permit
Select whether they will pick up the permit or if it should be sent through campus mail
Faculty and staff are issued one parking permit. Additional permits are $20. Payments for additional permits can be made at the cashiers window in McClain Hall.
Those registering for permits should have all vehicle information ready, specifically the license plate number. All Missouri plates have changed with the issuance of the bicentennial plates.
If an on-campus address needs to be corrected, contact Human Resources at
hr@truman.edu
or 660.785.4031.
An email will be sent upon registration. Allow two business days for processing after receiving the email notification. Parking Services will be open 7:30 a.m.-4:30 p.m. Monday through Thursday.
Former employees who would like a parking permit will need to complete registration at the Department of Public Safety Office during Parking Services hours.