Bulldog B.I.T.E. Awards Winners After Virtual Finals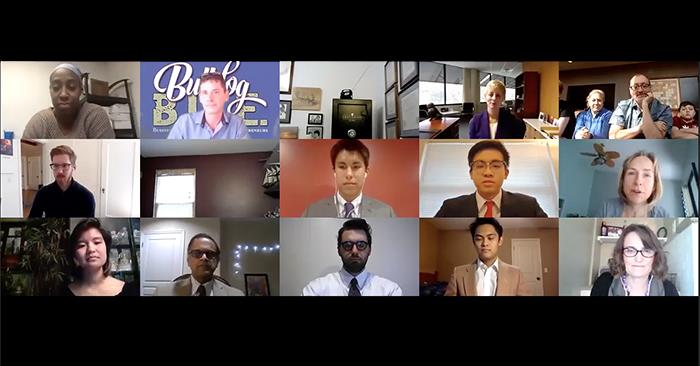 Victor Wei, a freshman computer science and business administration double major, won the 2020 Bulldog B.I.T.E. elevator pitch competition.
As the winner, he received the Cody Sumter Excellence in Entrepreneurship Award and earned a prize of $3,000 for his pitch of a colancing business, which allows college students to do freelance work by connecting their expertise to students in their university community who are looking for those services.
Quinn Miller, a senior business administration major, received the Amanda Gioia Entrepreneurship Award and earned $2,000 for his pitch of high-speed gym washing machines. Carson Heumphreus, a senior business administration major, finished third and won $1,000 for his pitch of a financial debt solution.
The other students who made the finals were, Linphi Buipham, a senior business administration major, Justin Galang, a sophomore computer science major and Hunter Lambert, a senior finance major.
An elevator pitch outlines the concept or idea for a product, service or project in a short period of time, typically from 30 seconds to three minutes. The length of the pitch mirrors the time spent waiting for and riding an elevator in a high-rise building. The purpose of the pitch is to spur the interest of a potential investor or financial backer.
Bulldog B.I.T.E., which stands for Business Innovation by Truman Entrepreneurs, allowed participants to pitch a for-profit or not-for-profit concept. The competition is funded through the Villhard Innovation Fund, which was created by Doug and Diane Villhard to stimulate innovation and entrepreneurship at Truman and has received gifts from both individual and corporate donors.
Judges selected six individuals/teams to attend the finals April 3. This year's finals were conducted through a Zoom meeting. Contestants were judged based on the problem, product/service solution, market, competition, value creation, seed money, a Q&A session and the presentation of the concept.
The first round judges for the Bulldog B.I.T.E. were Carolyn Chrisman ('04) and Derek Weber. The practice round judges were Stephanie Ahrens-Mills ('07), Elizabeth Gregory, Bill King ('89), Anastasia Tiedemann and Jonathan Walker. The final round judges were Amy Gryder ('97), Stephanie McGrew ('10) Mindy McCubbin ('97) and Cody Sumter ('10).