Future Nurse Hopes to Heal with Music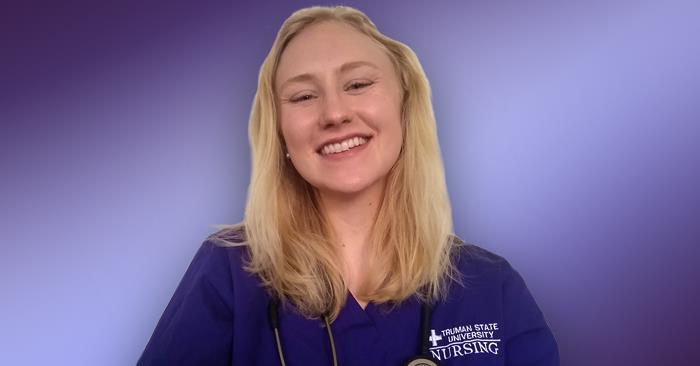 Zoe Frantom, a senior nursing major from Arlington Heights, Ill., recently won a $500 prize by sharing her appreciation for a liberal arts education.
Frantom's essay, "A Merging of Passions," earned her the David J. Prior Award from the
Council of Public Liberal Arts Colleges
. Created in 2012 to recognize senior-level undergraduates whose academic careers and future goals have been shaped by the transformative power of the liberal arts and sciences experience at a COPLAC institution, the award celebrates the legacy of Prior, who dedicated his career to undergraduate teaching.
In her essay, Frantom described how she wanted to attend a liberal arts institution due to a multitude of interests, particularly music and medicine. Her prowess playing the clarinet earned her a scholarship to Truman, but she also was fascinated with health and anatomy.
"When I reached the end of high school it felt like I was at a crossroads with music: I either had to make it my entire life and career, or I had to let it fall to the wayside to pursue something else," she wrote.
While Frantom originally declared as a music major, she quickly felt it was not her ideal path. She had no desire to teach music or rely on performing as a career. Picking an alternative major was not a problem in terms of interest, but she did have reservations about being ostracized by her fellow musicians and missing out on experiences. She soon learned her fears were unfounded.
"When I switched my major, my passion for music was renewed, and I was able to take lessons, perform in studio class and play in the top wind symphony for three years, in addition to playing in my own senior recital," Frantom wrote. "I wasn't simply allowed to do these things – I was encouraged to do them. I had the best of both worlds, studying nursing while also playing the instrument I love alongside amazing musicians."
Ironically, opportunities through her music organization led Frantom to realize how powerful and healing music can be. Through Sigma Alpha Iota, she was able to share music in the community at a nursing home, a day care center and the YMCA. Seeing a nursing home resident sing "Somewhere Over the Rainbow" brought Frantom to tears.
"It was amazing to see how much we could touch people just by sharing our love of music with them, and we made so many wonderful connections with the community that we would not have made otherwise," she wrote.
Frantom has already integrated the healing power of music into other situations. While working as a nurse assistant at an overnight camp last summer, she started utilizing her ukulele for daily singalongs with her fellow employees at the end of their 16-hour shifts.
"It was amazing to see how a few songs transformed the atmosphere from anxiety-ridden to relaxed and joyful," she wrote. "I hope to continue incorporating music in any way I can throughout my career to help both nurses and patients to heal and cope with difficult emotions."
Frantom will receive her nursing degree at the conclusion of the semester and is currently applying for nursing jobs in Chicago. Her future patients and colleagues will no doubt benefit from the experiences she was able to have as an undergraduate.
"I firmly believe that if I were at a different college, I would not have had many of the opportunities that I was offered at a liberal arts institution," she wrote. "Because of my education in interdisciplinary approaches to knowledge and critical thinking, I now have a well of insight that will allow me to use creative and dynamic approaches to serve my future patients and fellow nurses."
Frantom is the second Truman student in as many years to receive the
David J. Prior Award
. Alumnus Elijah Farrales was the 2019 winner.