Gillette and Pennell Receive Innovation Awards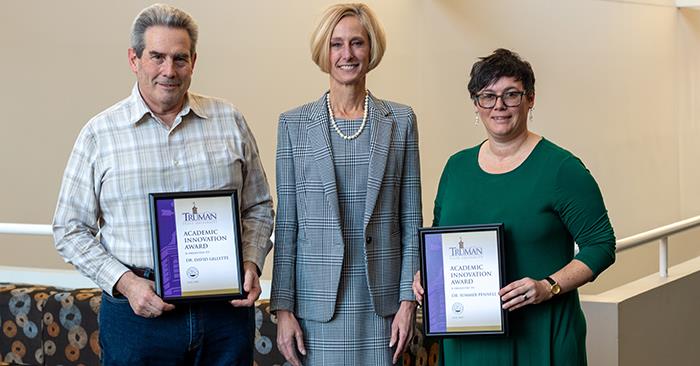 David Gillette, left, and Summer Pennell, right, accept their Academic Innovation Awards from Janet Gooch, executive vice president for academic affairs and provost.
David Gillette, professor of economics, and Summer Pennell, assistant professor of English, each earned the fall 2019 Academic Innovation Award.
Gillette was recognized for
MITs, an ACE Up Your Sleeve
, in which he suggests MITs (most important things), are little written nuggets that allow the instructor to Assess the day's class, show Concern for students and Engage with them briefly following each class.
Pennell won for
Creating Memes to Increase Comprehension of Queer Theory
. To help students understand the concepts learned in queer theory, she had them create weekly memes from the readings to translate their new knowledge to a familiar form of media. At the end of the semester they reflected on their memes and created two to three new meta-memes to describe the thematic connections between them, which allowed them to synthesize their learning.