Summer Study Abroad in Costa Rica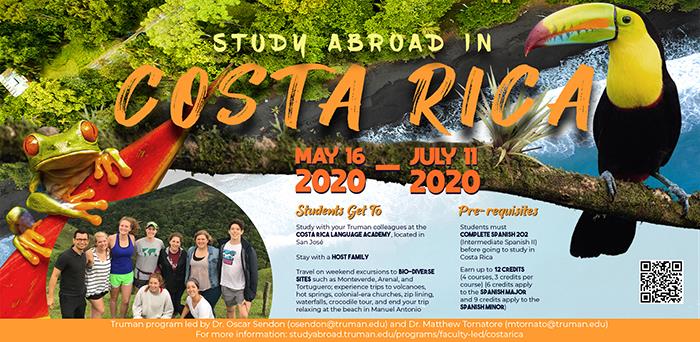 There will be three informational meetings for students interested in the Costa Rica study abroad program.
Students will attend the Costa Rica Language Academy (CRLA), located in San José, the country's capital, from May 16 through July 11, 2020. They will have a complete linguistic and cultural immersion by living with a host family. In addition, students will travel on weekend excursions to bio-diverse sites such as Monteverde, Arenal and Tortuguero, where they will experience trips to volcanoes, hot springs, colonial-era churches, zip lining, waterfalls, a crocodile tour and relaxing beaches.
Students will earn 12 hours of 300-400 level credit taking the following courses: Spanish Grammar and Composition; Spanish Conversation; Introduction to Hispanic Literature; and Latin American Culture and Civilization. Nine credits apply to the Spanish minor and six credits apply to the Spanish major. Students must complete Spanish 202 before studying in Costa Rica.
The Department of Classical & Modern Languages sponsors this study abroad program. For more information, contact
Oscar Sendon
,
Matthew Tornatore
or visit
studyabroad.truman.edu/programs/faculty-led/costarica/
.
Info Sessions:

Oct. 24
1:30 p.m.
McClain Hall 306
Oct. 30
7 p.m.
McClain Hall 306