Notables
Nabil Alghalith
,
professor of business administration
, will have his manuscript entitled, "Tesla: Innovation with Information Technology" published in the International Journal of Business Research and Information Technology, vol. 5, no. 1, winter 2018.
W. Michael Ashcraft
,
chair and professor of philosophy and religion
, presented a lecture called "New Religions and Those Who Study Them" at the College of Wooster Nov. 8, Wooster, Ohio.
Jerrold Hirsch
,
professor emeritus of history
, presented a paper, "White Eyes, Black Voices: Lawrence Gellert, John Lomax, and African American Folksong," at the annual meeting of the American Folklore Society, in Buffalo, N.Y.

Huping Ling
,
professor of history
, donated seven books authored/edited by her to Truman's Special Collections Department in Pickler Memorial Library. Among the donations were "Asian American History and Culture: An Encyclopedia" and "Chinese Chicago: Race, Transnational Migration, and Community Since 1870."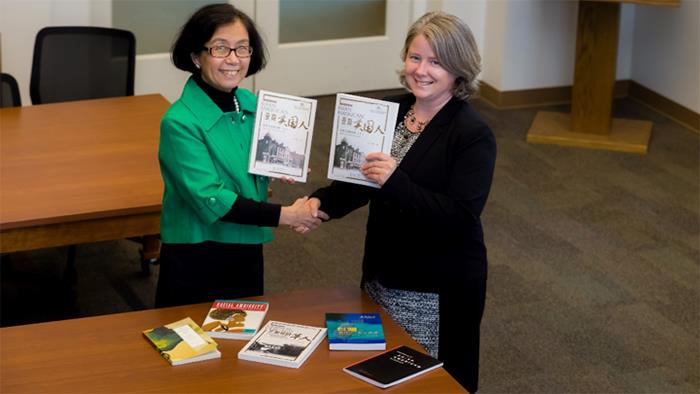 Huping Ling (left) presents her donation to Amanda Langendoerfer, associate dean of libraries for special collections and museums.
A total of 15 football players were named all-conference voted by the Great Lakes Valley Conference coaches. In addition to his first-team honors,
Lawrence Woods
also received Special Teams Player of the Year. Other GLVC first-team players include
Jordan Salima
,
Nick Verbeck
,
Sam Reeves
and
Jordan Siegel
.
Jacob Morris
,
Jake Floyd
,
Bryan Edwards
and
Travis Myerson
were voted as second-team choices. Honorable mentions include
C.J. Brown
,
Zach Nadle
,
Brock Rohler
,
Andy Satulla
,
Josh Scheiderer
and
Jacob VanDoren
.
Jaden Barr
was Truman's nominee for the GLVC Spaulding Sportsmanship award for the fourth-straight season. Truman received the team Sportsmanship Award from the league. For full bios of the players,
click here
.
Truman
was named the top public in Missouri according to
WalletHub
. Among both public and private universities, Truman was second overall. To determine the top-performing schools at the lowest possible costs to undergraduates, WalletHub compared nearly 1,000 higher-education institutions in the U.S. across 30 key measures. The data set is grouped into seven categories, such as student selectivity, cost and financing and career outcomes. The metrics range from student-faculty ratio to graduation rate to post-attendance median salary.
Truman
has been ranked at No. 1 in Value Colleges ranking of the
Top 25 Affirmative Consent Schools: Preventing Sexual Assault on College Campuses
. The list highlights institutions that have put consent in a central place in their culture, whether through student organizations, service and research centers, and/or official policy.