Irish Fiddler to Perform Concert and Dance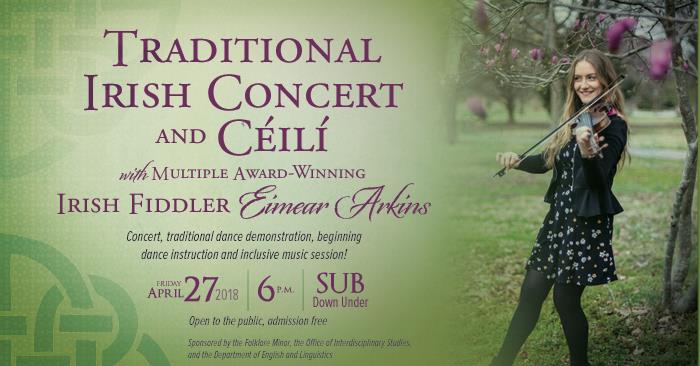 Irish fiddler Eimear Arkins will perform in a traditional Irish concert and dance at 6 p.m. April 27 in the Student Union Building Down Under.
The performance will include the concert, traditional dance demonstration, beginning dance instruction and inclusive music session.
Arkins is a multi-instrumentalist, singer and dancer from Ruan in County Clare. She has 11 solo All-Ireland Fleadh Cheoil titles and has competed in European and World Dancing Championships. She has performed extensively on concert tours throughout Ireland, Britain, North America and Canada. She has represented Ireland in France as a performer at Rennes Expo and in Spain as a participant in La Noche Negra, a cultural collaboration and exchange between the Mid-West of Ireland and the province of Asturias.
In 2014, Arkins was selected to be part of the Comhaltas National Folk Orchestra of Ireland, which was put together to perform the Boróimhe Suite, written and directed by Michael Rooney, commemorating the life of Brian Ború. For the past seven summers, Arkins has performed with the internationally renowned show Brú Ború and was part of the troupe that represented Ireland at World Expo 2010 in Shanghai, China. In August 2015, she traveled to World Expo 2015 in Milan with St. Louis Irish Arts where she promoted not only Irish culture but the expression of Irish culture worldwide.
Arkins has toured and performed with numerous groups including Cherish the Ladies and Téada. She has been a regular teacher at St. Louis Irish Arts since 2011 and has given workshops at various festivals throughout the world including: Catskills Irish Arts Week, New York; Viljandi Pärimusmuusika Festival, Estonia; St. Louis Tionól, St. Louis; Festival Interceltique de Lorient, France; Winnipeg Irish Fest, Canada; and Canadian Celtic Celebration, Thunder Bay, Canada.
Sponsored by the folklore minor, in partnership with the Office of Interdisciplinary Studies and the Department of English and Linguistics, the event is free and open to the public.