Celebrating 150: The Final Four Team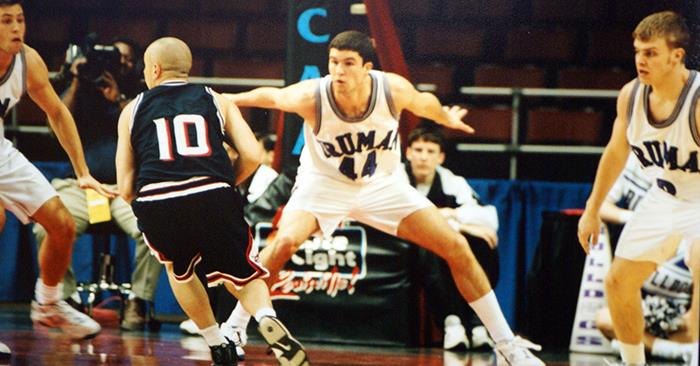 The 1998-99 Bulldogs had one of the greatest seasons in the history of men's basketball at Truman. That year, the team finished with a 26-7 record and won the conference and South Central regional tournaments. To top it all off, the team advanced to the NCAA Division II Final Four.
Truman opened the campaign by starting 7-0, the squad's best start since 1963-64. After dropping their next four games, the team would win 19 of its next 22 games and secure its first NCAA postseason appearance since 1981. The 1998-99 winning streak is surpassed only by the pair of 19-game tears of the 1946-47 and 1947-48 teams.
By capturing their final eight MIAA games, including a win over then top-ranked Pittsburg State (Kan.), the Bulldogs finished the conference season with a 12-4 record, good enough for the No. 3 seed in the MIAA postseason tournament.
The conference tourney brought three games that could have easily ended the Bulldogs' season. However, Truman won all three contests by a combined seven points, including two that were decided in the final two seconds. Cory Parker's jumper with 1.6 seconds left at Pittsburg State made the Bulldogs a 76-74 winner. Jason Reinberg's two free throws with one second left gave Truman a 70-68 home win over Northwest Missouri in the MIAA tournament championship tilt. It marked the first MIAA tournament championship for Truman since it won the initial league tourney in 1981.
Truman's momentum was evident in the regional as it upset MIAA foe and 13th-ranked Missouri Western 82-69 on the first day, snapping an eight-game losing skid to the Griffons. Game two brought the host and top-ranked team in the region, Midwestern State (Texas). Again, Truman notched a 13-point win, defeating the No. 19 Indians, 81-68. In the regional final, clutch free throw shooting in the second half helped the team to a 76-69 win over Abilene Christian (Texas) and a berth in the NCAA Division II Elite Eight.
The Bulldogs had not made it that far in the postseason since 1959-60. Truman's most exciting game, in what was a thrilling season, was still ahead of it. At Louisville, Ky., site of the 1999 Division II Elite Eight, the Bulldogs and St. Rose (N.Y.) couldn't decide a winner through two halves and two overtimes. But Truman seized the lead in the third extra period and advanced with a 106-101 victory.
In the semifinal, Truman's run came to an end, as No. 16 Metro State (Colo.) downed the 'Dogs 69-65 after Truman rallied from 24 down at one point.