Translator and Author to Give Two Presentations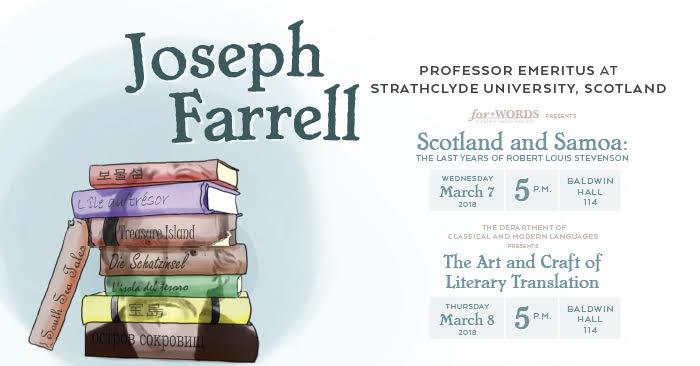 Internationally renowned translator and author Joseph Farrell, professor emeritus at the University of Strathclyde in Scotland, will present "Scotland and Samoa: The Last Years of Robert Louis Stevenson" at 5 p.m. on March 7 and "The Art and Craft of Literary Translation" at 5 p.m. on March 8 in Baldwin Hall 114.
The presentations are sponsored by the Department of Classical and Modern Languages, in partnership with the Department of English and Linguistics, and are free and open to the public.
Farrell served as professor of Italian and head of the Department of Modern Languages at the University of Strathclyde until retiring in 2010. Since retiring, Farrell has served as visiting professor at Flinders University in Austria, University of Melbourne in Australia, University of Warsaw in Poland, University of Edge Hill in Liverpool and the University of Venice in Italy. He has authored numerous books and articles. His most recent books include "Robert Louis Stevenson in Samoa," published by MacLehose in 2017, and an updated and revised version of "Dario Fo e Franca Rame," republished in 2018 by Methuen.
In 1999, Farrell was awarded the John Florio prize for his translation of Daniele Del Giudice's novel, "Staccando l'ombra da terra," published as "Take-off." This bi-annual award, managed by the Society of Authors and sponsored by the Times Literary Supplement, is given for the best translation from Italian to English of a literary work. In November 2005, he received the honor of Cavaliere of the Republic of Italy for services in assisting the promotion of Italian culture abroad.
Aside from teaching and publishing original and translated works, Farrell served as theatre critic for the Scotsman newspaper and has worked for BBC radio arts and political programmes. Since the early 1980s, he provides a regular review article for the Scottish Review of Books on theatre productions in Scotland.