Notables
Rebecca Dierking
,
assistant professor of English and linguistics
, spearheaded a panel discussion of mindfulness in collegiate courses at this year's National Council Teachers of English convention in St. Louis, Nov. 16-20. Joining her were Donna Strickland, associate professor of English at the University of Missouri, and
Zane DeZeeuw
, a Truman alumnus and current graduate student at Western Kentucky University. Part of Dierking's doctoral coursework included Strickland's mindful writing course, which focused on applying the theories of Robert Boice to the writing process. Upon arriving at Truman, Dierking crafted Mindful Reading, Writing, and Research, basing the course on Strickland's class but expanding it to include multiple facets of academia. While at Truman, DeZeeuw was a student in Dierking's initial course offering and has since applied mindfulness tenets to his beginning composition courses at WKU. The title of their panel was "Advocating for Healthier Composition Students: A Mindful Approach." Dierking also served as a respondent to student presenters in a later session at the convention: "The Future is Now: Exploring 21st-Century Teaching Ideas with the Next Generation of English Teachers."
Women's soccer players
Allison Lockett
and
Laura Ney
were named to the 2017 United Soccer Coaches Division II All-Midwest Region team. Ney, a junior, was selected to the second team as a defensive player. She earned her second straight first-team All-Great Lake Valley Conference honors earlier this postseason and was a second-team all-region pick last year. Ney played all 1,630 minutes this season as the center back and registered one goal on 10 shots. She was a part of seven Bulldog shutouts and helped hold opponents to 4.5 shots on goal per game. Lockett, a senior, was also a first-team all-conference choice and was voted to the third team all-region. This is her second straight year on the all-region team as she was a second-team honoree in 2016. Lockett tied for the team lead in goals with three and added an assist for seven points in 13 games played.
Summer Pennell
,
assistant professor of English
, recently co-edited an educational book, "Possibilities in Practice: Social Justice Teaching in the Disciplines." The book is for pre- and in-service PK-12 teachers. Pennell even wrote a chapter in the book, together with co-author Dr. Bryan Fede, called "Reading the Math on Marriage Equality: Social Justice Lessons in Middle School." All of the co-editors of the book are colleagues from Pennell's Ph.D. program at UNC-Chapel Hill. Together they researched social justice teaching practices, and after presenting their findings on a panel at an AESA conference in 2015, they decided to create an edited volume as there is a lack of published research on social justice education in PK-12. They wanted to find good examples of studies from diverse PK-12 classrooms, so this volume covers a wide variety of grade levels and subjects.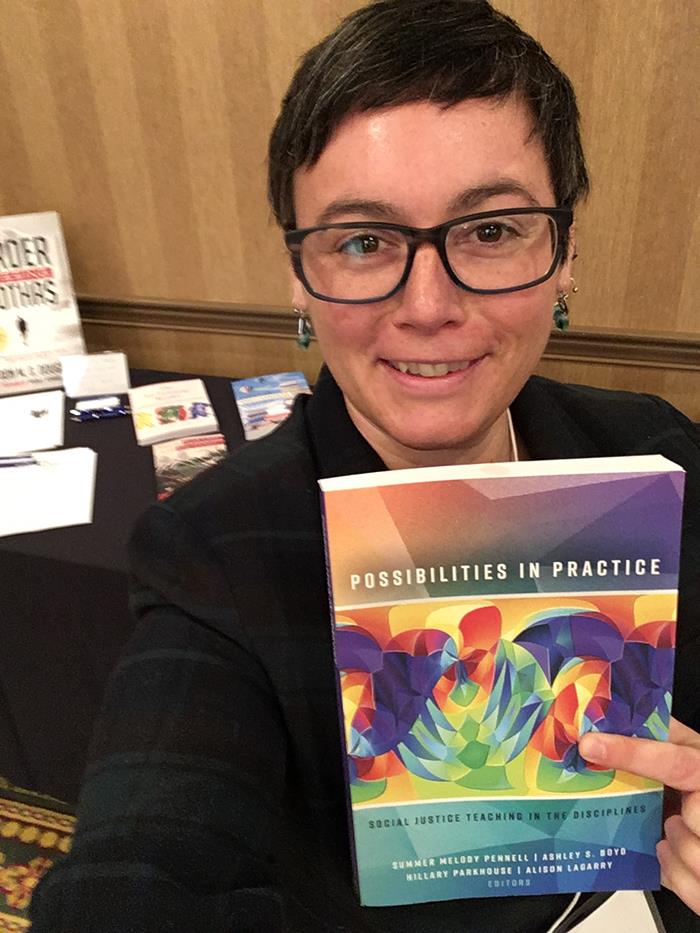 Summer Pennell