Burden to Give Commencement Address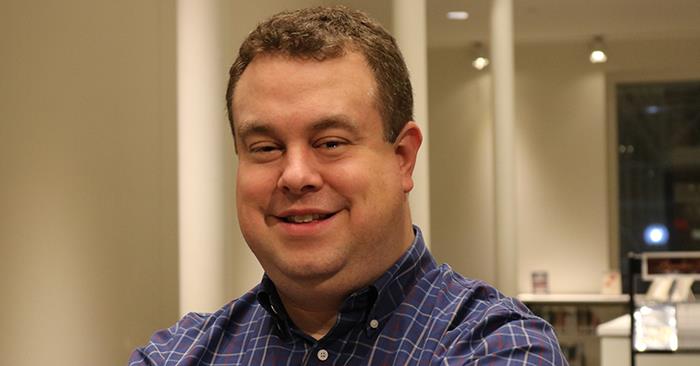 Graduation will include a familiar face as Truman's own Zac Burden will provide the commencement address during the ceremony at 11 a.m. Dec. 16 in Pershing Arena.
Burden has served as the Missouri Hall director at Truman since 2004. He is in charge of the operational, supervisory and emergency management of the residence hall. He enjoys the opportunity to work with hundreds of new students each year and help make Truman a warm and welcoming home for them. Burden worked with the Missouri Hall community to take it through a $15 million renovation of the facility, reopening the building in 2007. He oversees operations of all seven residence hall desks across campus and has previously offered leadership for Residence Life's Oktoberfest, athletics engagement, new student recruitment, student staff recruitment and training, and professional staff recruitment.
A Truman alumnus, Burden earned a Bachelor of Arts degree in history in 2003 and a Master of Arts in Education for secondary social studies in 2009. He completed his teaching internship at the Adair County R-I school in Novinger, Mo. A recipient of the General John J. Pershing Scholarship, he served as the Pershing Society's treasurer. Burden was president of the Dobson Hall Senate, historian for the Student Senate and a member of the leadership team with the Baptist Student Union. He first joined Residence Life as a Dobson Hall desk worker and later a student advisor. It was in this role that he began offering historical tours of the campus to interest people in the University's rich heritage. He went on to become the founding community coordinator at Missouri Hall.
Civic and professional engagement is important to Burden. A charter member of the Rotary Club of Kirksville – North Star, he currently serves as the club's president. He has been active with service in Rotary at the local and regional level. Burden is a member of the Upper Midwest Region - Association of College and University Housing Officers and previously held regional committee roles. He's been a longtime advisor of the Truman delegation to the University of Northern Iowa's annual RA Conference and has twice been selected as a top conference presenter. At Truman, Burden volunteers as co-chair of the Kohlenberg Lyceum Series, member of the Sesquicentennial Celebration Committee and member of the University Bike Committee. He previously served as co-chair of the Office of Advancement's Campus Community Campaign, as well as on various professional search committees.
Originally from Kansas City, Mo., Burden likes getting back to western Missouri to visit friends and family, including riding bicycles with his parents, Dennis and Connie Burden. His younger sister, Ashley, is also a Truman MAE graduate. She teaches science at Raytown High School in Raytown, Mo., and serves as an executive board member with the Kansas City chapter of the Truman Alumni Association.
Family and friends unable to attend the event in person can view it online at
livestream.com/tmn/2017FallGraduation
.
Details on commencement can be found online at
truman.edu/registrar/commencement
or through the
Facebook event
. Those wishing to share their experiences through social media are encouraged to use
#TrumanGraduation
,
#TrumanGrad
or
#BulldogForever
.