Celebrating 150: Remembering the Centennial Anniversary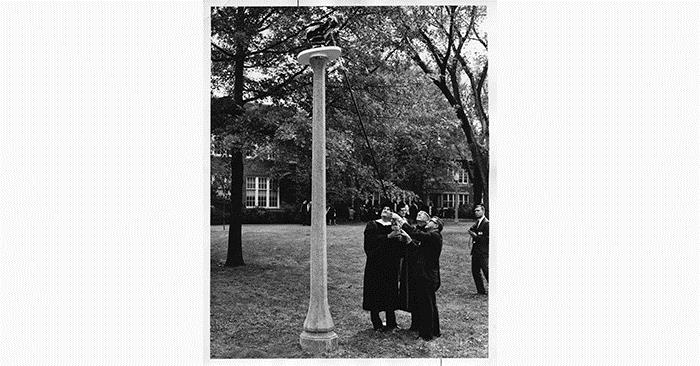 President F. Clark Elkins, President Emeritus Walter H. Ryle and Board of Regents president James R. Reinhard light the Flame to the Second Century, Sept. 2, 1967. Photo courtesy of the Special Collections Department in Pickler Memorial Library.
While the sesquicentennial is the most recent yearlong celebration in the University's history, there have been others. The 125th anniversary received a considerable amount of fanfare in 1992, but perhaps the most remarkable was the Centennial Celebration of 1967.
Plans for the Centennial Celebration began in 1963 when the incoming freshmen, who would be the '67 graduates, commissioned a commemorative flag as a class gift. By 1965, an advisory committee consisting of 77 people had been formed to determine the proper way to mark the school's 100th birthday.
Among the 90 planned events to honor the centennial anniversary were various banquets, dances, musical and theatrical performances, receptions, dedications and a number of alumni gatherings. Festivities also included the installation and ceremonial lighting of the Flame to the Second Century. Originally located on the north end of the quad, the flame was moved to its current location in front of Kirk Memorial in 1981.