Baldwin Hall Reopens After Renovation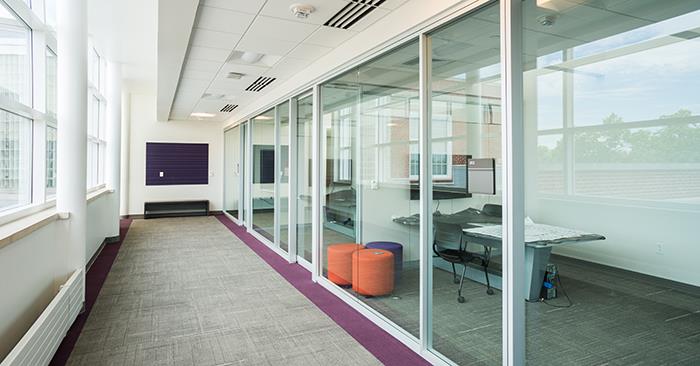 Few buildings on campus have been around as long as Baldwin Hall, which will reopen for classes this fall following a yearlong renovation project.
The nearly 80-year-old building was offline for the entire 2016-17 academic year while major updates were completed. Unlike previous campus remodels and additions, the upgrades to Baldwin Hall were largely utilitarian and included new heating, air conditioning, lighting, plumbing, wiring, walls and flooring.
Since opening in 1938, Baldwin Hall has received little in the way of renovation. An elevator was added in the late 1980s, and the building received some structural attention to the exterior in the summer of 2012. Previously, the largest capital improvement to Baldwin Hall included the addition of the auditorium in 1959. Under the recently completed renovation, the auditorium received new paint and updated lighting.
While Baldwin Hall might be most widely known for its auditorium, much of the 85,000-square-foot building is dedicated to academics and student services. The first floor will now be home to the Study Abroad Office, the Center for International Students and the Multicultural Affairs Center. Along with 47 offices for faculty members and GTRAs, the rest of the building now houses two large classrooms, two seminar rooms and 12 general classrooms. Other academic areas include five collaborative study rooms, two foreign language computer labs and six dedicated foreign language tutor rooms. Additional functional spaces include six music practice rooms, interfaith prayer spaces and two conference/meeting rooms, as well as informal lounges and study spaces on all three floors. A major component of the update is new restrooms on all three floors.
In total, the Baldwin Hall renovation project cost $14.5 million, with $9.2 million coming from the state and the remainder from Truman. Whiting-Turner of Kansas City was the general contractor, and local subcontractors included Aladdin Glass, TH&N Electric, Rentschler Painting and B&H Graphics, Print and Sign.
A ribbon cutting ceremony for Baldwin Hall will take place during homecoming, Oct. 13-15, as part of the University's
150th anniversary celebration
. Details on the ceremony will be announced at a later date.
See more Baldwin Hall photos here
.