Proceeds from Eclipse Glasses Support Observatory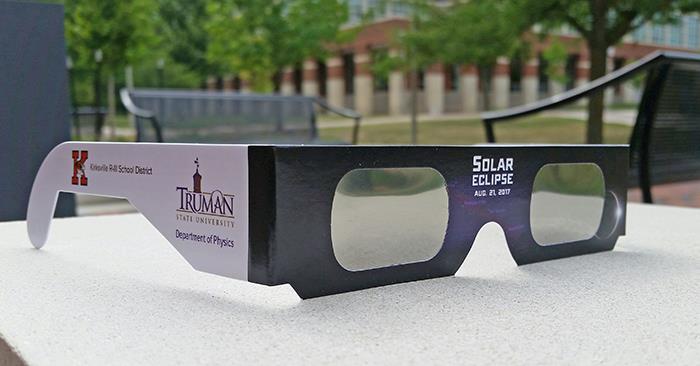 UPDATE: Eclipse glasses have sold out.
The Stargazers astronomy club is selling eclipse glasses for $1.50, with proceeds benefiting the University Observatory.
The Great American Solar Eclipse of 2017 will take place Aug. 21, and Kirksville will experience a 98 percent obscuration. To safely look directly at the uneclipsed or partially eclipsed sun requires special-purpose solar filters or solar viewers. Anyone interested in purchasing eclipse glasses can contact
Vayujeet Gokhale
. Glasses can be purchased at the School of Science and Mathematics Office (Magruder Hall 2004) or in Magruder Hall 3168 weekdays between 10-11:30 a.m. and 1-4:30 p.m. Payment options include cash or check made out to "Truman State University" with "Truman Observatory" written on the memo line.
In addition to selling eclipse glasses, faculty members and students from the Stargazers have been working on events to help the community experience the rare occurrence. Solar telescopes and solar binoculars will be set up the day of the event on campus near the Student Union Building Mall and at the observatory located at the University Farm. They will also be accessible at the Adair County Public Library and the Moberly Area Community College parking lot on Normal Avenue. Additionally, there will be other means for observing the eclipse, including sunspotters and solar-funnels. These events are free and open to everyone.
Useful links regarding the eclipse can be found at
observatory.truman.edu/eclipse2017
.
Start of Partial Eclipse
11:44 a.m. CST
Maximum Eclipse
1:11 p.m. CST
End of Partial Eclipse
2:37 p.m. CST
How to Safely View the Solar Eclipse
Solar Telescope and Solar Binocular Locations
Truman Observatory
University Farm
Outside the Del and Norma Robison Planetarium
University Mall
Moberly Area Community College
2105 E. Normal Ave.
Adair County Public Library
1 Library Lane