Record Number of Students Receive Fulbright Grants
A total of nine Truman students have received Fulbright awards for the 2017-18 academic year.
The Fulbright program offers fellowships for U.S. college graduates, graduate students, young professionals and artists to study, conduct research and/or teach English abroad.
Altogether, Truman had 16 students complete applications for the program. All nine of the selected semifinalists went on to receive awards, an all-time high for the University.
The selected students and the countries in which they will spend the Fulbright year are: Luke Bishop, Spain; Christy Crouse, Colombia; Luc Derry, Georgia; Shelby Kovack, Spain; Nathan Schellenberg, South Korea; Matthew Warner, Spain; Lydia Whitacre, South Africa; Sadie Williams, Spain; and Ellen Zempel, Nepal.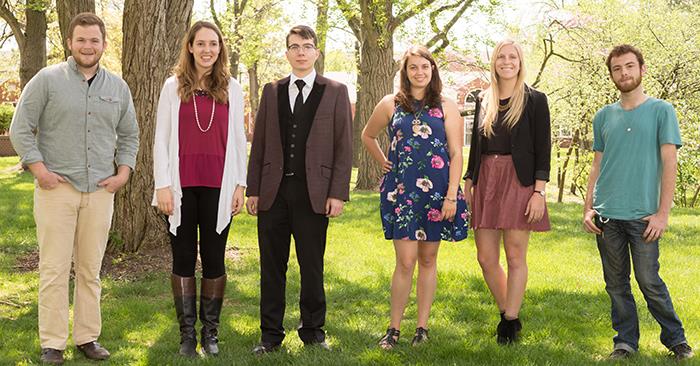 Nine Truman students received Fulbright awards and will teach English abroad during the coming school year. Pictured, from left to right: Luke Bishop, Shelby Kovack, Luc Derry, Sadie Williams, Christy Crouse and Nathan Schellenberg. Not pictured: Matthew Warner, Lydia Whitacre and Ellie Zempel.