Forensics Wins Missouri Debate Championship
Truman's forensic union had a successful weekend at the Missouri Association of Forensic Activities Championship Tournament hosted this year by the University of Central Missouri, Feb. 17-18.
The team earned the Harold Lawson Debate Sweepstakes Award in the open division, making them the top debate team in Missouri. In addition to debate sweepstakes, the team took home numerous other individual awards and state titles.
In individual events, sophomores Jared Roberts and Johnathan Christy each advanced to the final round of extemporaneous speaking, with Roberts earning sixth and Christy earning fifth. Roberts was also named top extemporaneous speaking novice in Missouri. In impromptu speaking, sophomore Jonathan Rogers earned eighth place, and freshman Austin Sopko earned third, making him the top Missouri novice in the event. Finally, senior Adrien Zambrano capped off his Missouri speech career by winning the state champion title in prose interpretation.
Truman forensics competed in two categories of debate, including parliamentary debate and Lincoln-Douglas debate. In the novice division of parliamentary debate, freshman Caleb Daniels was named sixth best speaker in the division. Roberts was fifth best speaker and freshman Luke Frogge was named third best speaker. Frogge was partnered with Roberts in the competition, and Daniels was partnered with freshman Noah Martin. Together, these four debaters swept through novice parliamentary debate and closed out the division, making them co-champions in Missouri. This is the fifth consecutive state championship for Truman in novice parliamentary debate.
In the open division of parliamentary debate, Christy was named fifth best speaker. He and sophomore Tyler Behymer competed together in the division and advanced all the way to the final where they were named state champions in parliamentary debate. This is Christy's second championship in the event, having won the novice division title last year.
In Lincoln-Douglas debate, Daniels, Frogge and Roberts all advanced to semi-finals in the novice division. Based on preliminary round seeding, Daniels advanced over Roberts to the final while Frogge debated in the semi-final round and prevailed. As a result, Daniels and Frogge closed out the final round, making them co-champions in novice Lincoln-Douglas debate. Daniels was also named sixth best speaker in the event, Roberts was named fifth and Frogge took the top speaker award, his third state championship of the tournament.
In open Lincoln-Douglas, Behymer advanced to the quarterfinal round. Christy advanced to the final round to successfully defend his state title, earning his second consecutive state championship in open Lincoln-Douglas debate. Christy was also named the best Missouri speaker in the event, his third state championship of the tournament.
Participation in the forensics program is open to any Truman student in good standing, regardless of prior speech and debate experience. For more information on how to get involved, visit
forensics.truman.edu
or contact
Christopher Outzen
, director of forensics, or
Craig Hennigan
, assistant director of forensics.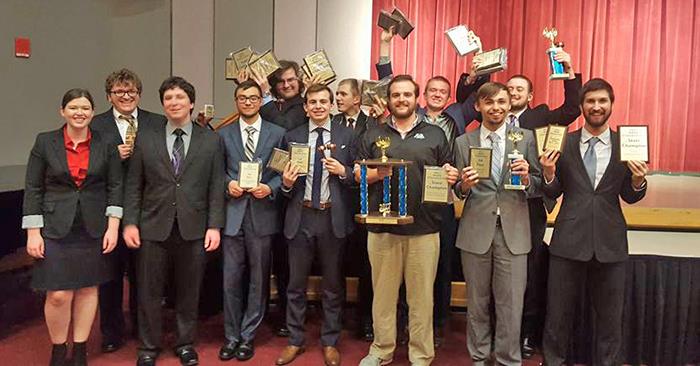 Members of the forensics team celebrate after competition, Feb. 18. Pictured, front row, left to right: Rebecca Walker, Nicolas Telep, Noah Martin, Caleb Daniels, Connor Stewart, Austin Sopko and Adrien Zambrano. Back row, left to right: Jonathan Rogers, Luke Frogge, Johnathan Christy, Tyler Behymer and Jared Roberts.