Eta Sigma Phi Wins at National Convention
Truman's chapter of Eta Sigma Phi, the national classics honor society, won two awards at the annual convention April 1-3.
Four current students, Jordan Noland, Clarissa Goebel, Nicole Craft and Cheyenne Rodenbaugh, participated actively in committee meetings, contests and elections. Three recent Truman alumni, David Giovagnoli, Maddie Oberman and Callyn Burgess, joined them for the festivities.
Truman's classics program received the 2016 Eta Sigma Phi Outreach Award for the classics video contest, which was recognized as a novel way to promote Latin and the classics at Missouri high schools. Joseph Slama, a freshman classics major and Pershing scholar, won first prize in intermediate Greek in the Maurine Dallas Watkins Translation Contest.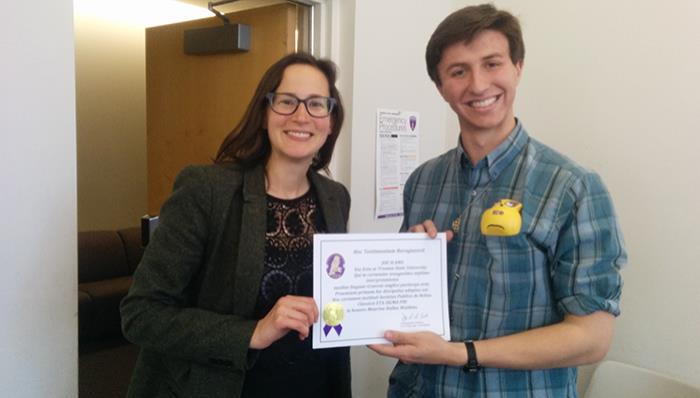 Amy Norgard and Joseph Slama


Left to right: David Giovagnoli, Maddie Oberman, Callyn Burgess, Jordan Noland, Nicole Craft, Clarissa Goebel, Cheyenne Rodenbaugh, Amy Norgard and Bridget Thomas