Students' Paper Wins at National Conference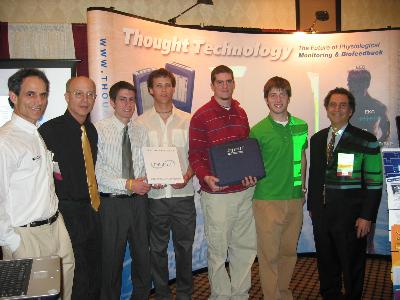 Thought Technology Ltd. President Hal Meyers (left) and Vice President Larry Klein (right) present a ProComp Infiniti system to Fred Shaffer (second from left), William Robinson III, Andrew Bax, Bryan Sappington and Joseph Goedde.

Truman State University students Andrew Bax, a senior psychology major from Jefferson City, Mo.; Joseph Goedde, a sophomore psychology major from Jefferson City, Mo.; and William Robinson III, a senior biology major from Chesterfield, Mo.; were named as the 2006 recipients of the Best Student Paper Submission Award by the Association for Applied Psychophysiology and Biofeedback (AAPB) at its 37th Annual Meeting, April 6-9, in Portland, Ore.
At the conference, undergraduate, masters and doctoral students competed for a $4,500 Thought Technology Infiniti data acquisition system.
Bax, Goedde and Robinson's paper, titled "The Cousins Relaxation Exercise (CRE) Increases Heart Rate Variability," explored the effects of using CRE as an adjunctive treatment in heart rate variability training. The results of their study support the use of the CRE as a home practice exercise to enhance the effects of heart rate variability training and encourage further research within clinical populations.
These students belong to Truman's Applied Psychophysiology Research Team, mentored by Fred Shaffer, professor of psychology. Their travel was generously supported by the Social Science Division.