McNair Program Scholars Attend Heartland Research Conference
Twenty students from Truman's Ronald E. McNair Program traveled to the 19th Annual McNair Heartland Research Conference in Kansas City, Mo., Sept. 25-27.
Six McNair scholars gave public presentations based on research projects conducted during this past summer. Scholars who presented include: Angela Bunning (biology), Ronnia Estes (anthropology), RaShaunda Fargo (English/education), Brandi Jones (health science), Meghan Meyers (health science) and Roberto Renteria (psychology).
Truman McNair alumna Michelle McClure ('95, '98) served as a keynote speaker at the conference. She is now the associate provost at Harris-Stowe State University. McClure earned her bachelor's degree in political science and Master's of Arts in Education from Truman. In August 2003, she earned her Ph.D. in Educational Policy and Leadership Studies with an emphasis in higher education administration from Indiana University-Bloomington.
John Quinn, interim research coordinator, and Janet Blohm-Pultz, program coordinator, accompanied the scholars.
The McNair Program provides support for students interested in obtaining a Ph.D. who are income eligible, first-generation college students of any background or who are from underrepresented groups in graduate education. McNair has been at Truman since 1992.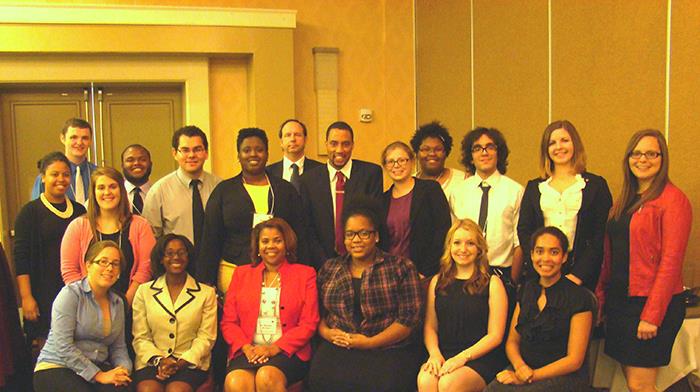 Pictured, first row, left to right: Sofia Gonzalez, Mahliyah Adkins-Threats, Michelle McClure, RaShaunda Fargo, Meghan Meyers and Sydney Ruffin. Second row, left to right: Brandi Jones, Angela Bunning, Roberto Renteria, Chacity Cooper, Mackenzie Smith, Morgan Grandon, Sebastian Maldonado-Velez, Anastasia Steblina and Charlyn Ortmann. Third row, left to right: Eber Gibby, Franchot Walker, Dr. John Quinn, Ronnia Estes. Not pictured: Brandall Bond, Erica McBride and Jessica Wooldridge.