Career Center Sponsors Kansas City Recruiting Trip
Through the University Career Center, nine Truman students were able to visit Barkley, Hallmark and VML in Kansas City on March 17, and had the opportunity to talk with alumni and recruiters about career paths in marketing and advertising.
As students are making career decisions, to see the work environments and get feedback from recruiters on what they look for with applications and online portfolios is beneficial. At all locations the importance of skills gained through work experience, internships, volunteer work and organizational involvement was discussed, as well as how to showcase those in the application process.
The next Career Center-sponsored trip will be to Columbia, Mo., April 1. Students will learn more about the variety of career paths with Enterprise Rental Car, Macy's and Target. To reserve a spot, contact Polly Matteson at
pollym@truman.edu
.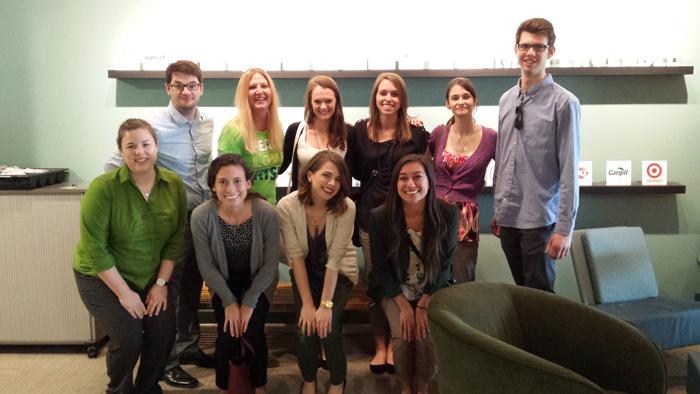 Truman students at Barkley, Inc., an advertising agency in Kansas City. Pictured, front row, from left: Elsa Mort, Gennie Avellino, Julia Judlin and Shari Fieser. Back row: Jeff Pircher, Barkley recruiter, Jennifer Karns, Taylor Schulz, Jessica Poole, Jamie Miller and Adam McMichael.