National Bulldog Day Marks Spike's Birthday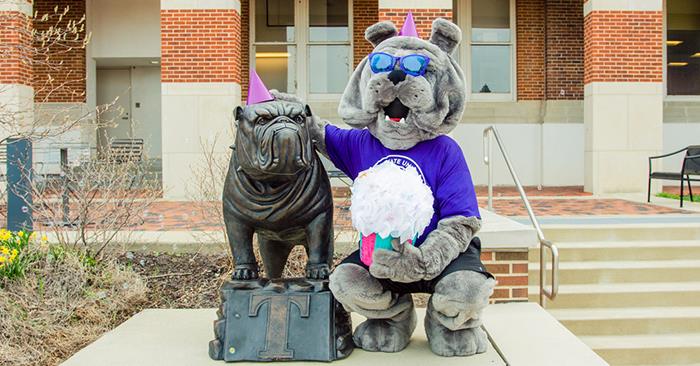 In celebration of National Bulldogs are Beautiful Day, and in observation of Spike's birthday, several events are scheduled for April 21.
Birthday cake will be served in dining halls at lunchtime. Subs in the hub will be available starting at 11 a.m., followed by cupcakes on the lawn at 1 p.m. with games such as pin the party hat on Spike. Games will be relocated inside if weather does not permit.
Centennial Hall will host Spike's Banana-Palooza Birthday Party at 6 p.m. President Sue Thomas will attend, and residents will have the opportunity to take a picture with her at a photo booth. Crafts such as paper birthday hats and banana door decorations with be available. Students can also play other games such as "Just Dance," Truman trivia and various board games. Cookies and beverages will be provided.
Students are encouraged to post their favorite Spike photo using the hashtag #HappyBirthdaySpike. People can also show their spirit by taking a #SelfieWithSpike in front of the newly painted bulldog wall in the campus bookstore.