Piano Festival Features Distinguished Artist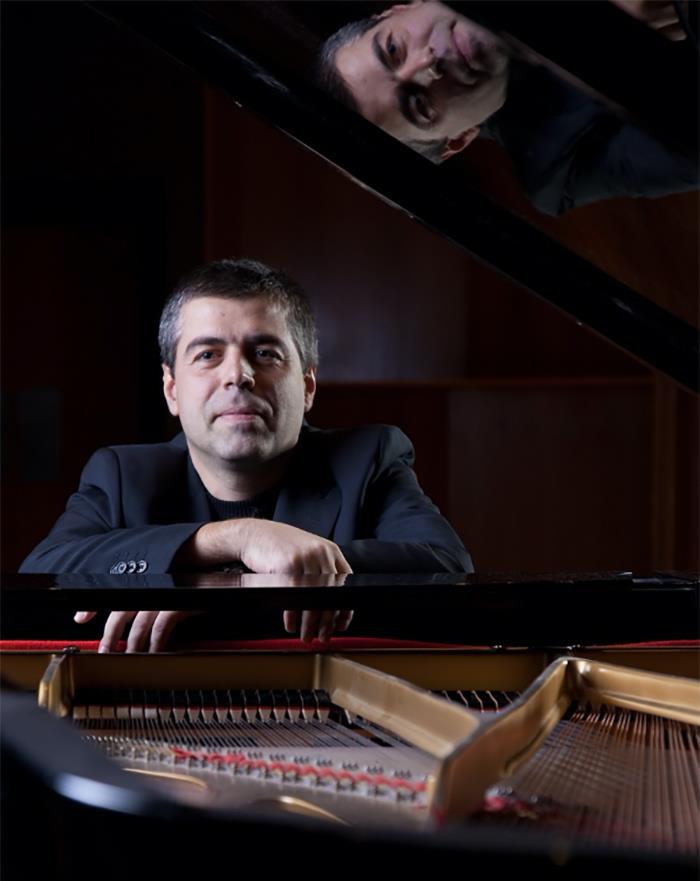 The 39th annual Truman Piano Festival will take place Feb. 18-19 in the Ophelia Parrish Performance Hall.
This year's featured guest artist is Dr. Ilia Radoslavov. At 7:30 p.m. Feb. 18, he will perform a solo recital that features the "Ten Pieces from Romeo and Juliet, Op. 75" by Sergei Prokofiev, followed by "Pictures at an Exhibition" by Modest Mussorgsky. At 9:30 a.m. Feb. 19, Radoslavov will conduct a master class featuring three Truman piano majors. Both events are free and open to the public.
A native of Bulgaria and hailed by The Beeld as a performer who reaches "high levels of purity" and "exquisite, pure sound" with a "soothing, yet elusive power held in check by an unseen emotion that leaves the audience breathless," Radoslavov began his formal studies at age five in Ruse, Bulgaria, and was receiving critical acclaim by the age of 14.
Throughout his career, Radoslavov has been welcomed warmly and with accolades by audiences and critics alike, while appearing in numerous solo and chamber performances in prestigious venues in the United States, Bulgaria, Germany, Italy, Serbia and South Africa. Most notably, he has performed as soloist in Weill Recital Hall at Carnegie Hall, Seattle's Benaroya Hall, Pretoria's Brooklyn Theater, and the National Palace of Culture in Sofia, Bulgaria. Among his festival appearances are the March Days of Music in Ruse, Bulgaria, the Festival for Young European Talents in Potsdam, Germany, Illinois Chamber Music Festival and the Fairbanks New Music Festival, as well as Truman's own New Music Festival.
An enthusiastic and dedicated collaborator, Radoslavov has performed with such prominent musicians as Metropolitan Opera flutist/piccoloist Stephanie Mortimore, Canadain Brass French horn player Bernard Scully, and most recently distinguished South African violinist Zanta Hofmeyr and renowned Bulgaran violinist Stoika Milanova. His most recent recording with the Blue Griffin recording label features works from one of his most recent chamber projects with Zanta Hofmeyr – "Ten Sonatas for Piano and Violin" by Beethoven.
Radoslavov has a doctoral degree in piano performance from University of Wisconsin-Madison, where he was a Paul Collins Distinguished Graduate Fellow, an award celebrating outstanding performing ability and musicianship. He has graduated with high distinction with degrees in piano performance from Southern Illinois University-Carbondale and the State Conservatory of Music, Sofia, Bulgaria. His teachers include Christopher Taylor, Wilfred Delphin, Stella Dimitrova and Ilya Tchernaev. He has also studied with world-renowned Leon Fleisher, Richard Goode and Ann Schein.
Radoslavov is in high demand as a master teacher, adjudicator and clinician both in the U.S. and Europe. He has taught master classes at University of Chicago, Missouri State University, University of Wisconsin-Madison, Drake University, Kansas State University, Cornish College of the Arts, Seattle, Xavier University of Louisiana, State Conservatory of Music, Sofia, Bulgaria, and State College of Music, Ruse, Bulgaria. As a member of the Music Teachers National Association (MTNA), he is a frequent presenter and adjudicator for MTNA events. He is a regular adjudicator at the Illinois State Music Teacher Conference and is presently co-president of Bloomington Normal Music Teachers Association.
Radoslavov is currently associate professor of piano and head of the Keyboard Department in the School of Music at Illinois Wesleyan University.