Schweizer Named Presser Scholar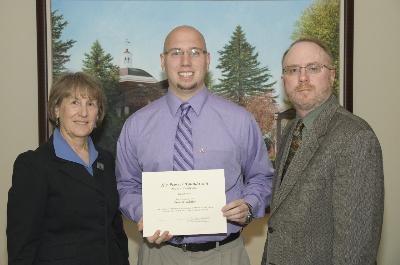 Truman State University President Barbara Dixon (left), and Randall Smith (right), professor of music, present Eric Schweizer (middle) with a certificate for being named a Presser Scholar.
Eric Schweizer, from Oakville, Mo., has been named a Presser Scholar for the 2008-2009 academic year. He will be senior in the fall of 2008, and is majoring in music performance (saxophone) at Truman State University.
The Presser Scholarship is given to an outstanding music major at the end of his or her junior year. The foundation's grant was awarded to Schweizer this spring. Theodore Presser is remembered not only as the publisher of Etude, the music magazine, and the founder of the great music publishing firm bearing his name, but also as a philanthropist who specialized in music education.
Schweizer is the son of Gregory and Diane Schweizer of Oakville. He is a graduate of De Smet Jesuit High in Creve Coeur, Mo.
While he attended high school, he participated in many solo and ensemble competitions, attended the Illinois Summer Youth Music and Webster Jazz Camps, toured Europe with the Sound of America in 2004, and performed as a member of the American Federation of Musicians, Local 2-197.
At Truman, he performs as a saxophonist with the Wind Symphony I, Jazz Ensemble, Jazz Combo, and Saxophone Quartet. In January he performed at the Missouri Music Educators' Convention as a member of the 2008 Missouri All-Collegiate Band. In April he performed Paul Harvey's "Concertino for Baritone Saxophone and Orchestra" with the Truman Symphonic Orchestra as a winner of the Gold Medal Concerto Competition. Last year he performed in a master class with David Nabb, assistant professor of music from the University of Nebraska at Kearney.
In addition to performing, he is a member of Phi Mu Alpha, a professional fraternity for students in music, and was a freshman theory mentor. In April he presented an interdisciplinary paper titled "Dmitri Shostakovich: Composer, Hero, and Gentile Jew" at the 2008 Truman State University Student Research Conference.
Schweizer studies saxophone with Randall Smith, professor of music; clarinet with Jesse Krebs, assistant professor of music; and jazz improvisation with Tim AuBuchon, assistant professor of music.