Festival Celebrates First-Year Action Projects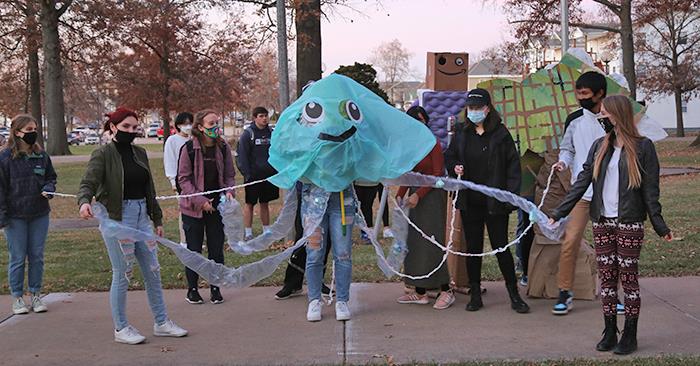 First-year students use puppets to communicate the need for sustainability. Students worked in groups to develop a puppet and a brief story which shows the effect of trash on the community and environment.
Students from the Truman symposium and the self and society seminars are coming together for a celebration event at 4:30 p.m. Dec. 6 in the Student Union Building Georgian Rooms.
The Symposium Festival marks the end of the First-Year Experience for new students. More than 30 stations will showcase aspects of community projects and partnerships created throughout the semester as part of the symposium and the self and society seminars. Incoming students worked toward goals such addressing hunger in Adair County, contributing to the advancement of literacy in local schools and exploring how art can celebrate and strengthen a community.
The festival includes a puppet show at 4:40 p.m. on the quad to raise awareness about sustainability, waste and recycling. Due to social distancing requirements, the general public and campus community are invited to join the festival beginning at 5 p.m. in the Student Union Building Georgian Rooms.
A virtual element of the festival will be available on Zoom for those who are not able to attend in person. Contact
dcprice@truman.edu
for the virtual link. There will also be a livestream available from KTRM Studios which can be accessed
here
.