Bulldogs Place 18 on All-GLVC Football Team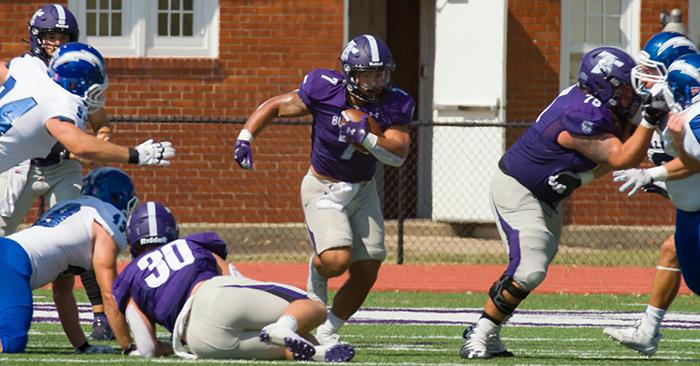 Truman had 18 individuals make the All-Great Lakes Valley Conference Football team with four players announced as first-team selections.
Running back Cody Schrader was named the Co-Offensive Most Valuable Player by league coaches and was a unanimous first-team selection. He shares the award with Southwest Baptist quarterback Cooper Callis.
Heading into the America's Crossroads Bowl, Dec. 4, Schrader led the conference and Division II in rushing yards with 1,855, which was also the second highest by a Bulldog in a single-season. He is also a nominee for the Division II Player of the Year Award, the Harlon Hill Trophy, that will be announced in December. The last Bulldog to win a conference offensive player of the year award was Jarrett Anderson in his Harlon Hill winning season of 1996.
Joining Schrader on the All-GLVC first team from Truman are defensive back Ben Watson, defensive tackle Robert Greco and defensive utility player Collin Alves. Watson was second on the team with 80 tackles, 4.5 for loss and 2.5 quarterback sacks and a single-game high of 16 against Indianapolis in the regular season finale. Greco had 11 of his 29 stops behind the line of scrimmage and three sacks to go with a forced fumble and three quarterback hurries this season. Alves had four of his 10 total tackles for loss and 2.5 sacks while recovering two fumbles and forcing another.
On the second team were kick returner Jaylen Jefferson, kicker Josh Scheiderer, punter Taylor Cornish, tight end Matt Hall, fullback Jacob Morris, offensive linemen Nick Biesemeyer and Dane Eggert, defensive tackles Michael Neisler and Ben Miller, linebacker Isaiah Estes and defensive back Ben Thomas.
Jefferson was second in the nation in kickoff returns with an average of 34.6 on 14 attempts and two touchdowns. Scheiderer averaged 54.3 yards per kickoff and was 7 of 12 on field goals with a long of 46 yards. He is the all-time leader in kick scoring with 266 points.
Cornish led the GLVC in punting average at 40.3 with 18 inside the 20 and 15 fair catches. Hall was the leading receiver in terms of yards with 433 and had five touchdown receptions out of 33 catches. Morris becomes a five-time all-conference performer out of the fullback position and had 12 catches for 224 yards and two touchdowns this season. Biesemeyer and Eggert helped the Truman offense to an average of 211 yards rushing per game and allowed only 18 sacks and 51 tackles for loss through 11 games.
Neisler finished with 6.5 tackles for loss out of 14 total stops and was second on the team with five quarterback sacks. Miller had 34 tackles, four for loss and two sacks. Estes led Truman in total stops with 85 with a single-game high of 14 against Southwest Baptist. Thomas had three interceptions, 12 pass breakups and 77 total tackles this season.
Named honorable mention was receiver Dante Ruffin, linebacker Ulysses Ross and offensive lineman Justin Watson. Ruffin was first in receptions with 37 and second in yards for 421 and had five touchdowns, he was also Truman's nominee for the James R. Spalding Sportsmanship Award. Ross led the defense with 13.5 tackles for loss and 5.5 quarterback sacks among with 67 total tackles and Watson was again a key member of the offensive line that had the Bulldogs third in the GLVC in sacks allowed and 51st in the nation at 1.73 per game.
This season marks the most all-conference selections for the Bulldogs since earning 22 in 1982. The all-time most is 23 players selected following the 1981 season.
Truman defeated Hillsdale (Mich.) College in the America's Crossroads Bowl in Hobart, Indiana, Dec. 4. Schrader was named Offensive MVP of the game with 219 yards on 28 carries and three touchdowns. The Bulldogs finished the season with a 9-3 record.