Incentive Programs for Student Groups and Employees Encourage Vaccinations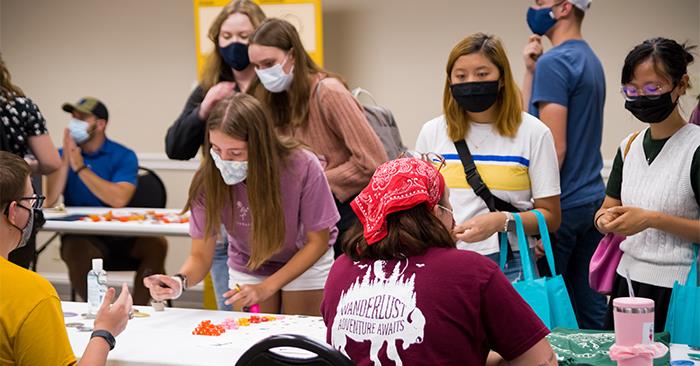 In an effort to increase vaccination rates, the University is implementing two incentive programs – one for student groups and another for employees.
Recent surveys indicate the known vaccination rate is 65% for employees and 50% for students. While these numbers are promising, an increase in the rate would help mitigate spread in the Truman and Kirksville communities.
Student clubs/organizations, athletic teams and residence halls are eligible to receive a cash award
for their group if 85% of the registered members have verified being vaccinated with the University. Cash awards are related to the size of the organization: groups with less than 10 members can earn $50; groups with 10-19 members can earn $100; groups with 20-29 members can earn $200; and groups with 30 or more total members can earn $300.
Club/organization official rosters will determine the total size of the group. Rosters are due by Oct. 1, through the normal process with Union & Involvement Services. Athletic teams will be based on official rosters. Residence halls will be based on student advisor groups.
While left to the discretion of the organization, the cash award may be used for things such as speakers, events, travel, organization purchases or philanthropic donations.
Specific details about the incentive program, including how to provide vaccination verification, will be sent on Wednesday. For student organizations, these details will be sent to the organization and advisor emails on file with Union & Involvement Services; please be sure those emails are up to date. Athletics and student advisors will be emailed the details for their groups.
The Student Health Center will host vaccination clinics for both first and second shots Sept. 30 and a second-shot clinic Oct. 28.
For employees, the incentive program includes the possibility of an additional two paid days off.
If the University reaches a vaccination rate of 75% among all employees, Nov. 23 will be awarded as a paid day off and offices will be closed. If a rate of 85% is achieved, Nov. 22 would also be awarded. Additional details for employees will be emailed on Wednesday.
For student groups and employees to earn the incentive, vaccination verification must be provided by midnight, Nov. 1.
Getting vaccinated is the most effective way to mitigate the spread of COVID-19. Thanks to everyone who has already been vaccinated and to those who will soon be vaccinated; it truly matters for our community.